Yuriy Figel
Member of the Kyiv Committee of Chicago Sister Cities International—
Kyiv, previously spelled Kiev, is an ancient city in the heart of Europe. Once the largest economic and cultural center of medieval Europe, this city dates back to the 5th century A.D. Kyiv now serves as the capital of Ukraine, a country with a population of 46 million and a diaspora numbering roughly 20 million people world wide.
Chicagoland is home to estimated 100,000–250,000 Ukrainians and Americans of Ukrainian descent. The Ukrainian American community of Chicago is one of the largest and one of the most active. It has a very full and vibrant cultural life, including numerous shows, exhibitions and events.
Chicago even has its very own Ukrainian Village, a neighborhood located on the west side of downtown. It is the cultural center of Chicago's Ukrainian community. Ukrainian churches, restaurants and museums are gems in the crown of Chicago's image as a beautiful city.
In 1991, Kyiv became Chicago's 1300-years-older brother when the two cities signed the Sister City Agreement.
Why brother? In the Ukrainian language, a linguistic gender distinction is being made for the cities and Kyiv happens to be a masculine name. Indeed, the city was founded by the legendary prince Kyi and has been bearing his name ever since.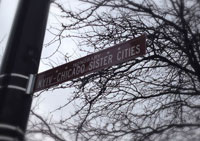 So, Chicagoans and Kyivans—as well as all Ukrainians, as their capital city represents the entire nation—are sisters and brothers who share the same values and, sometimes, the same history. The citizens are building international bridges for cultural exchange, partnerships and businesses.
And it is very important to nourish such relationships and develop the institutions of public diplomacy including Chicago Sister Cities International with over 20 sister cities around the globe.
In 2012, a section of Chicago Avenue in the Ukrainian Village was renamed to celebrate the Kyiv-Chicago relationship. I am very honored to be one of the members of our Kyiv Committee where we promote Chicago as a global city and Kyiv as its one of the closest partners.
Please join us on Facebook: Kyiv Committee of Chicago Sister Cities.
To learn more about the Chicago's Ukrainian community, feel free to visit my blog on Chicago Tribune's site Chicago Now: Ukrainian Chicago.
And, of course, watch this short but amazing video presentation about Kyiv: