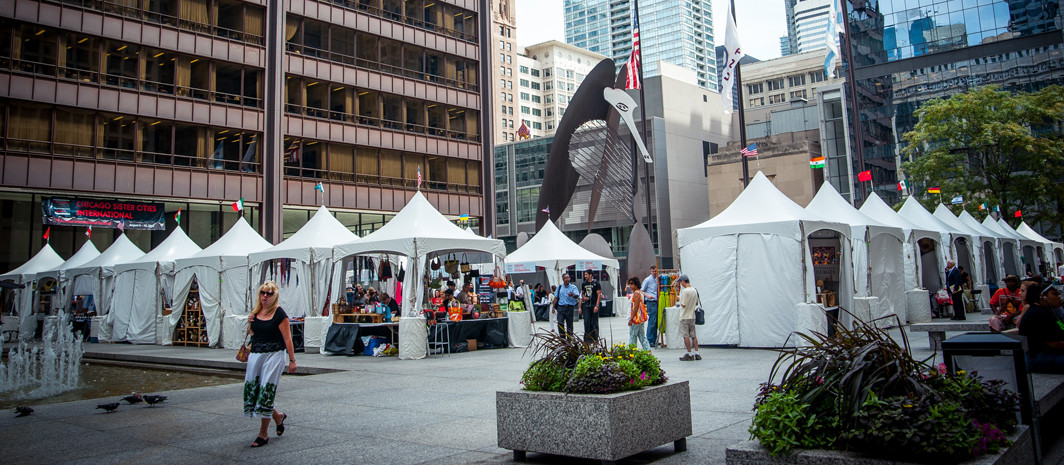 The 8th Annual Chicago Sister Cities International Festival transforms Daley Plaza into an international village filled with food, music, dance and merchants, August 5-9, 2013 from 10:30 a.m. – 5:30 p.m. Chicago's 28 international sister cities will be represented at the festival, where visitors will be able to sample international cuisine and view live cultural performances.
The festival, which is free and open to the public, attracts approximately 60,000 visitors ranging from tourists to business professionals to community representatives from Chicago's rich ethnic neighborhoods. With all of Chicago's sister cities highlighted, this festival truly represents the diversity and international spirit that exists in Chicago.
On Wednesday, August 7, the festival will celebrate "Chicago Consular Corps Day" in honor of the 80 countries that make up Chicago's Consular Corps and to commemorate the all-inclusive international relationships that CSCI creates around the world.
This year's festival also includes a special photography exhibition in the lobby of the Richard J. Daley Center presented by the Osaka, Japan Committee of CSCI, 絆 Kizuna 2: The Bonds of Emotion. The photographic exhibition highlights recovery efforts of the Japanese people since the March 11, 2011 Japan earthquake and tsunami. Highlights include photos and stories from Chicagoans who took part in recovery efforts or were living in Japan at the time of the earthquake; user-submitted photos from those living in the affected Japanese region; and photos from the archive of The Nikkei, the leading Japanese business newspaper.
Other highlights of the festival include:
Food Vendors
Spencer's Jolly Posh representing Birmingham, United Kingdom
Las Tablas representing Bogota, Colombia
Korean Kitchen representing Busan, Republic of Korea
Caffé Gelato representing Milan, Italy
Shokolad Pastry and Café representing Kyiv, Ukraine
Kasia's Deli representing Warsaw, Poland
Merchandise Vendors
Out of Africa representing Accra, Ghana
Pallay Crafts representing Bogota, Colombia
Karisus Design Studio representing Delhi, India
Koru Street representing Delhi, India
Because I like it! representing Galway, Ireland
E & J Designs representing Mexico City, Mexico
No Manches Clothing representing Mexico City, Mexico
Designs by Gina representing Milan, Italy
Provence Village Ltd representing Paris, France
Designs by Tova representing Petach Tikva, Israel
Jan Lee Design representing Shanghai, China
Oriental Arts Center representing Shenyang, China
Made in Lithuania (Balzekas Museum of Lithuanian Culture and Old Vilnius Cafe) representing Vilnius, Lithuania
Amber Treasures representing Warsaw, Poland
Global Elements representing the Global Community
Ten Thousand Villages representing the Global Community
Full Schedule of Performers
Monday, August 5
12 noon: Shariq Sidz representing Lahore, Pakistan
12:30 p.m.: Pieptone! representing Hamburg, Germany
Tuesday, August 6
12 noon: Sam Burckhardt Quartet representing Lucerne, Switzerland
12:30 p.m.: Hellenic 5 representing Athens, Greece
Wednesday, August 7
12 noon: Chicago Youth Poongmul representing Busan, Republic of Korea
12:10 p.m.: Consular Corps Day Speaking Program
12:40 p.m.: Baha Assaf Band representing Amman, Jordan
1 p.m.: DJ C representing the Global Community
Thursday, August 8
12 noon: W. Side Story/AfriCaribbean Connections—a Gallery 37, After School Matters program representingDurban, South Africa
12:30 p.m.: Nordic Folk Dancers of Chicago representing Gothenburg, Sweden
Friday, August 9
12 noon: Cirque Shanghai: Dragon's Thunder representing Shanghai, China
12:30 p.m.: Omladina Dance Group representing Prague, Czech Republic