Michelle Kohler
Lucerne Artist Studio Artist-in-Residence—
For over ten years, the Lucerne Committee of CSCI has hosted numerous professional artists of various disciplines at its unique artist-in-residence program. The aim is to develop professional artist collaborations and to strengthen the sister city relationship between Chicago and Lucerne. From a large pool of applicants, the Lucerne Committee selects Chicago artists for a residency in Lucerne that lasts several months, and a specially selected jury in Lucerne selects Swiss artists to come and create in Chicago.
Lucerne-based visual artist Michelle Kohler has been the artist-in-residence at the Lucerne Artist Studio in Chicago since August 1, completing the residency on November 30, 2013. Michelle's husband and two-year old son have also travelled to Chicago with her. Below, she shares her impressions of Chicago and what about the city has been of greatest surprise during her residency. All photographs have been taken by Michelle Kohler.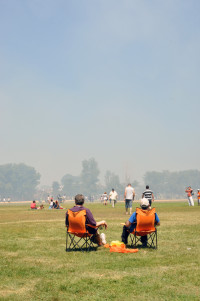 Surprise 1:
Trees line each and every street here in this neighborhood. That is amazing. And totally the opposite of what you'd expect as a Swiss coming to live in Chicago (okay, we have seen pictures on the internet…but were surprised nonetheless). Unfortunately when it comes to photographing houses, these trees do most of the time stand in my way…and so do all the cars that also line each and every street I can think of around here.
Surprise 2:
The quantity of food and things in general at supermarkets! How much milk must Chicagoans drink every day? How will the three of us manage to drink a gallon of milk before it gets bad? Why is the sweet butter's expiration date only in about 7 months? How to handle a 24-pack of eggs?
Surprise 3:
How much trash only the three of us produce, when we go out for breakfast or lunch!
Surprise 4:
People are very friendly, hardly ever complaining, tolerant and very talkative, even toward strangers.
No matter if it is the waitress at the local diner, the cashier at the supermarket, the person waiting next to you at the train station or the bus driver. That is NOT always the case back home!
Here's two of many examples:
a) My son on one hand and the stroller loaded with grocery shopping bags would lead to a problem opening the door of the supermarket. A woman jogging on the other side of the street ran over and helped us by opening the door for us!
b) I'm walking home from the supermarket with a gallon of water in each hand. A male voice asks from behind if I need help. I turn around and see a uniformed school-boy carrying his back-pack and books…and he would have helped me carrying the water bottles!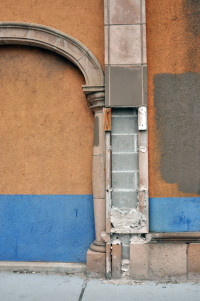 Surprise 5:
How is it possible to not ruin your shirts and laundry in those washing machines? How can everyday-use-machines as refrigerators, air conditioners and dishwashers be so loud?
Surprise 6:
Anything goes when it comes to architecture. A lot of things are not what they seem. My fascination for houses, how and of what they are being built is definitely not being reduced here. But I must admit that I have a hard time getting my eyes used to fake stone patterns that people put on the front wall of their house. And does a plastic siding of a house really have to look as if it was painted wood?
Surprise 7:
How is it possible that so many people live on the streets? I am doing some research on shelter facilities and it seems to me that there are many options.
In fact there are so many options for almost every society member it seems. The variety of events, programs, festivities, institutions is so extremely large. Is it a question of getting the right information to the right people? Because that indeed must be a great challenge.
Surprise 8:
Everything is sooo big for someone who is used to living in such a small country as Switzerland. How is it even possible to manage a city as Chicago, a state like Illinois, a country as the U.S.? That is beyond my possibility of understanding.
Surprise 9:
The local library in our neighborhood has a large selection of kids books in the English, Spanish and Polish language and each card holder is allowed to loan out 30 items at a time. And it's all for free.
Surprise 10:
You can eat a burger at the "big yellow M" for less than a dollar! For that amount you would get 1 apple (or two if you're lucky) at the local supermarket. Isn't that just crazy?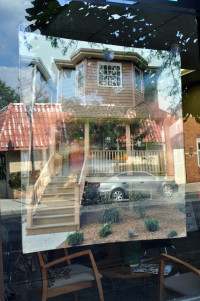 Surprise 11:
You can get veggie burgers and vegan alternatives at almost any place. We like that a lot.
Surprise 12:
Many people grow their own vegetables in their front garden or on their porch. It reminds us of our garden back home and it's great to see that the urge for natural, clean and simple food is also an issue here! And wow, there are so many great farmers markets around here.
Surprise 13:
Do most parents and nannies really prefer to talk and write on the phone than playing with the kids while being at the playground?
Surprise 14:
There's a 24-hour baby TV channel!!!
Surprise 15:
I can't get enough views of the Marina City Towers! Every time I see and pass them I am amazed by their raw elegance. Maybe that is an image I don't only know from pictures in our photo albums. Perhaps these buildings actually are part of my active memory*?!
*I was born here in 1981 as the first of two daughters of a Swiss couple based here for work. We left Chicago and moved back to Switzerland before I was two years old. To be able to spend some time here as an artist together with my husband and two year old son is simply great. I am having a wonderful time in Chicago and we will surely enjoy the second half of our art residency over here. Thank you to all the people and organizations that made this possible for us. And—we'll be back!!!
All photos © Michelle Kohler, 2013
From top to bottom:
Portrait as a Chicago Style Hotdog
Another Form of Escape
For Sale