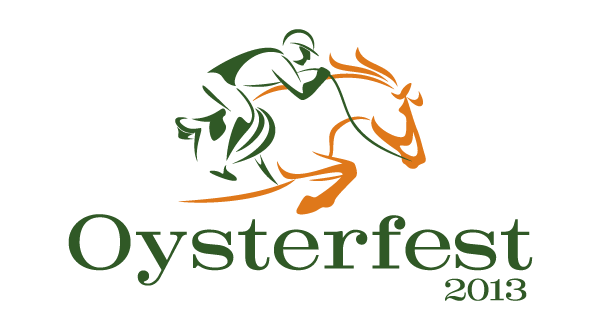 CHICAGO (October 10, 2013) – In the words of W.B. Yeats in At Galway Races, "There where the course is, Delight makes all of the one mind, The riders upon the galloping horses, The crowd that closes in behind…"
Chicago Sister Cities International (CSCI) celebrates its sister city relationship with Galway, Ireland with the 16th Annual Oyster Festival of Racing. Chicago's own Oyster Festival of Racing pays tribute to two of Ireland's most popular annual events, the Galway Races and the Galway International Oyster & Seafood Festival, by bringing together enticing food and exciting horse racing in one day of Irish jubilation.
The Galway Committee of CSCI presents the 2013 Oyster Festival of Racing on Saturday, November 9, 2013 from 1–6:30 p.m. (brunch begins at 1:30 p.m.; racing begins at 2:10 p.m.) at The Turf Club of Hawthorne Race Course at 3501 S. Laramie Avenue in Stickney/Cicero, IL. Tickets are $75 per person or $750 per table. A buffet featuring oysters accompanied by thoroughbred horse racing, live Irish music, a silent auction and raffle prizes constitute the celebration.
Raffle tickets are available for $20 for a chance to win a trip for two to Ireland, Chicago sports packages, downtown hotel getaways, dining gift certificates and many more prizes. Raffle prize winners need not be present to win. Event and raffle tickets are available for purchase at www.ChicagoSisterCities.com.
"For 16 years, the Galway Committee has been proud to present the Oyster Festival of Racing in an effort to raise money for exchanges and programming to further strengthen the tight bond between Chicago and Galway," said William Gainer, Chairman of the Galway Committee of CSCI, "and we look forward to another exciting day as we celebrate Irish heritage."
Proceeds raised help to fund the Galway Committee's educational and cultural initiatives, including sponsorship of the creation of the Circle of Life park in Galway, Ireland that will honor organ and tissue donors and their families.
The 2013 Oyster Festival of Racing is dedicated in memory of one of the Galway Committee's best friends and strongest supporters, Frank McMahon, who strongly believed in the importance of the sister city relationship between Chicago and Galway and loved the races.
For more information on this event, visit www.ChicagoSisterCities.com, follow us on Twitter (@ChiSisterCities) or "Like" us on Facebook, Facebook.com/ChicagoSisterCities.
Galway's Festivals
Sister cities since 1997, Chicago and Galway both possess a shared tradition of large-scale, popular festivals that enliven each city—inspiring exuberance among residents and bringing in thousands of visitors from around the region, country and world.
The Galway International Oyster & Seafood Festival was launched in September 1954 by the Great Southern Hotel (now called Hotel Meyrick). That year just 34 guests attended the first Oyster Festival Banquet and feasted on several dozen oysters each. These days, the event is one of the biggest on Ireland's social calendar, drawing more than 10,000 visitors who gleefully down tons of the famous native Galway oysters.
First held in August, 1869, the Galway Races is one of the world's premier horse racing festivals. Today spanning a full week over late July/early August, the event attracts over 150,000 visitors annually.
These, plus numerous other festivals, events and celebrations, including the world-renowned Galway Arts Festival, proves the city lives up to its nickname of Ireland's Cultural Heart (Croí Cultúrtha na hÉireann).
Chicago Sister Cities International
Chicago Sister Cities International (CSCI), a division of World Business Chicago, provides leadership to develop, manage and coordinate comprehensive programs and projects with Chicago's 28 sister cities in the areas of economic development, education, tourism, immigration and cultural enrichment, expanding Chicago's global reach for the benefit of the City of Chicago, its residents and businesses.
Chicago's 28 sister cities include: Accra, Ghana (1989); Amman, Jordan (2004); Athens, Greece (1997); Belgrade, Serbia (2005); Birmingham, United Kingdom (1993); Bogota, Colombia (2009); Busan, Republic of Korea (2007); Casablanca, Morocco (1982); Delhi, India (2001); Durban, South Africa (1997); Galway, Ireland (1997); Gothenburg, Sweden (1987); Hamburg, Germany (1994); Kyiv, Ukraine (1991); Lahore, Pakistan (2007); Lucerne, Switzerland (1998); Mexico City, Mexico (1991); Milan, Italy (1973); Moscow, Russia (1997); Osaka, Japan (1973); Paris, France (1996); Petach Tikva, Israel (1994); Prague, Czech Republic (1990); Shanghai, China (1985); Shenyang, China (1985); Toronto, Canada (1991); Vilnius, Lithuania (1993); and Warsaw, Poland (1960).
# # #
Press Contact
Benjamin Kelner
bkelner@chicagosistercities.com
312.201.4535