David Reithoffer
Vice Chair of the Paris Committee of Chicago Sister Cities International—
Various Chicago Sister Cities International committees participated in last weekend's Bank of America Chicago Marathon by organizing cheering stations along the marathon route and hosting receptions for foreign runners. 
David Reithoffer, vice-chair of the Paris Committee of Chicago Sister Cities International, writes about the Paris Committee's involvement in welcoming French runners to this year's marathon.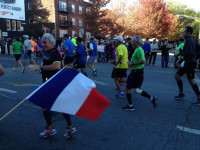 The Paris Committee had the pleasure of welcoming over 400 French marathon runners and their companions in town last weekend for the Bank of America Chicago Marathon, which was Sunday, October 13.
The Paris Committee produced two events to show Chicago hospitality.
One was a large reception Friday evening, October 11, at the Chicago Cultural Center under the magnificent Tiffany dome in Preston Bradley Hall for marathon runners, their companions and French-speaking Chicagoans who helped greet the visitors and give them advice about what to do and see in Chicago. A welcoming letter from Mayor Rahm Emanuel was read aloud, in French, to all the guests. The other official welcome was extended by the French Consul General, Graham Paul. Also wishing the runners well from the stage was champion wheelchair runner Diane Roy from Québec who made her second Bank of America Chicago Marathon appearance this year. The French runners were thrilled to have this friendly gathering that allowed them to be with their compatriots as well as meet local Chicagoans who speak French.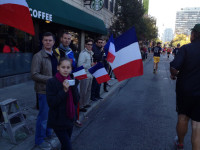 The second event was a vivacious and colorful French cheering group along the racecourse Sunday morning. In front of a Starbucks in Lincoln Park at Clark and Deming, young, old and everyone in between banded together with French flags, whistles, bullhorns and anything else to shout out cheers for the runners. When a French runner would come by (sometimes easy to identify thanks to "FRANCE" being written on their running shirts), the cheers would rise to a feverish pitch. For several hours, the street was thick with runners. Several runners even made a quick stop for photos opportunities with the French cheerers.
Some of the French runners and their companions will extend their trips to discover more of Chicago and the region. One thing we're sure of—they will all return home knowing that they received a big Chicago welcome thanks to Chicago Sister Cities International.