Susan Langdon
Executive Director of the Toronto Fashion Incubator—
Last week, during the 9th Annual Fashion Focus: Chicago's Fashion Week presented by the City of Chicago Department of Cultural Affairs and Special Events, two designers from Chicago's sister cities of Toronto and Paris showed their designs during one of the runway shows. Susan Langdon, Executive Director of the Toronto Fashion Incubator, writes about Toronto's unique fashion incubator and the participation of Toronto designer Sarah Stevenson in Fashion Focus.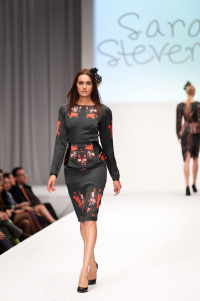 The City of Toronto, the Toronto Fashion Incubator (TFI), the City of Chicago and the Chicago Fashion Incubator (CFI) collaborated with the Toronto Committee of Chicago Sister Cities International and the Canadian Consulate in Chicago to develop the inaugural Sister Cities Fashion Incubator Exchange.
On October 16, Sarah Stevenson, winner of TFI's 2013 New Labels Competition showcased 10 looks from her award-winning collection in the emerging designers fashion show in iconic Millennium Park, during Chicago Fashion Week. Also showing their collections were Christine Phung, a designer from the Paris Fashion Incubator (Atelier de Paris)—Paris being another of Chicago's sister cities—and 8 local Chicago designers, among them, Lagi Nadeau.
As part of the fashion exchange, on October 23 and 24, Chicago Fashion Incubator designer Lagi Nadeau will travel to Toronto to showcase her spring 2014 collection as an exhibitor at TFI's Press & Buyers Brunch, a boutique trade show being held in the tents at World MasterCard Fashion Week (Toronto Fashion Week). Special permission was granted for a non-Canadian company to participate in this exchange which typically showcases emerging Canadian apparel and accessories brands.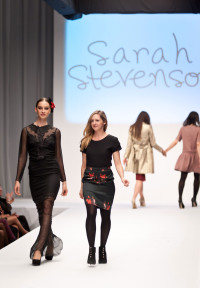 Thank you to everyone who worked together to ensure the Toronto-Chicago Fashion Incubator Exchange was such a huge success!  The exchange provided a wonderful opportunity for participating designers to build exposure for their brands in new markets; offered a platform for both fashion incubators to share best practices and establish new connections; and created the chance for Toronto and Chicago to strengthen its sister city relationship and create cultural and economic benefits.  We hope this is the start of many more collaborations between our fashion incubators and designers.
The Toronto Fashion Incubator (TFI) is an award-winning and highly-acclaimed non-profit organization dedicated to supporting and nurturing Canadian fashion designers and entrepreneurs. Established in 1987 as the world's first official "fashion incubator", the TFI model has been adopted by cities such as London, Paris, Milan, New York, Los Angeles, Chicago, Melbourne, Auckland and Amsterdam.  Housed in an 8,000 sq. ft. heritage building at Exhibition Place in Toronto, TFI provides critical support to creative entrepreneurs to develop the business and professional skills they need to thrive and survive. Start-up and advanced community programs include educational seminars on the business of fashion, one-on-one mentoring with industry professionals, exclusive promotional and sales opportunities, and valuable sales, marketing and trend resources. For more information about TFI, please visit www.fashionincubator.com or follow them on Twitter @TorontoFashion. 
Photos © City of Chicago