Since 2001, The Honorable Patricia Maza-Pittsford has served as the Consul General of El Salvador in Chicago and in 2007 she was named Dean of the Chicago Consular Corps and serves with honor in that position today. She discusses last week's Chicago Consular Corps Ball, presented annually by World Business Chicago and Chicago Sister Cities International to honor the Chicago Consular Corps.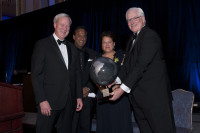 Chicago has been a great and welcoming partner to the 85 countries that make up the Chicago Consular Corps. The Corps is comprised of all career and honorary consular officers appointed by their respective governments to serve in metropolitan Chicago and are duly recognized by the United States Department of State. Together, we succeed in maintaining the vital ties between the city and our respective countries.
The mission of the Corps is to safeguard the interests, rights and privileges of its members and members of their respective communities; to promote cooperation and good relations with federal, state, county and municipal authorities as well as with the business community, cultural and civic institutions; and to promote solidarity, friendship and cooperation between its members and the local community, and consequently to create and engender an "esprit de corps".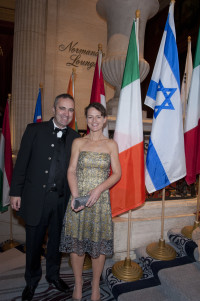 Each year at the Chicago Consular Corps Ball, we celebrate the important relationship between Chicago and the diplomatic community. For over 50 years, Chicagoans have been coming together to honor the Corps.
This year's Ball took place last Wednesday, October 30 in the Chicago Hilton's Grand Ballroom. Nearly 400 guests joined for a memorable evening that included a cocktail reception, dinner, music, dancing, award reception and a performance by a string trio from the Chicago Symphony Orchestra.
We had the pleasure to welcome Mayor Rahm Emanuel, who served as Honorary Co-Chair of the Ball and ABC 7's Ravi Baichwal, who served as Master of Ceremonies. We also paid tribute to international companies that have expanded operations into Chicago or moved headquarters into the City over the past year, expanding Chicago's global reach.
The proceeds from the Chicago Consular Corps Ball support the work of Chicago Sister Cities International and World Business Chicago and fund Chicago Consular Corps scholarships to the University of Illinois at Chicago.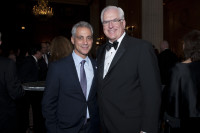 The Chicago Consular Corps chose Miles D. White, Chairman and Chief Executive Officer of Abbott, to receive the prestigious 2013 Global Citizen Award, which honors an individual who has made an extraordinary contribution to the international reputation, stature and outreach of Chicago. Last year's honoree, William Osborn, joined me in presenting the award. Miles White has a long and impressive record of giving back to the Chicago community—making the city a better one and helping to enhance Chicago's standing worldwide.
The Chicago Consular Corps looks forward to working together with Chicago Sister Cities International and World Business Chicago and building upon the strong foundation of long-standing friendship between us.