Join the Warsaw Committee of CSCI, in partnership with Poland's Kuyavian-­Pomeranian Voivodeship, for The King's Thursday Dinner, a Taste of Chicago Sister Cities event. This unique culinary event celebrates the Independence Day of the Republic of Poland and features Chefs Artur Moroz of Bulaj in Sopot, Poland and Mark Grosz of Oceanique in Evanston on November 14 (cocktails at 6 p.m.; dinner at 7 p.m.). Wine pairings will be featured with the gourmet cuisine.
11-Course Tasting Menu
Wild Maine Sea Scallops with Watercress and Kimchi
~Chef Mark Grosz~
Chilled Maine Lobster with Saffron-Togarashi Aioli
~Chef Mark Grosz~
Beet Salad with Goat Cheese served with Borscht and Bacon
~Chef Artur Moroz~
Boar Terrine with Wild Berry Gelée and Horseradish Mousse
~Chef Artur Moroz~
Slow Roasted Salmon with Port Essence 
~Chef Mark Grosz~
Traditional Goose ~ Prepared in Three Variations
~Chef Artur Moroz~
Sautéed Red Cabbage with Gingerbread
~Chef Artur Moroz~
Polonia Sauerkraut with Wild Mushrooms
~Chef Artur Moroz~
Pâtisserie Sweet Table
~Oak Mill Bakery~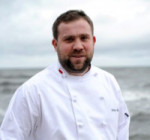 Chef Artur Moroz
Artur Moroz is the owner and executive chef of Bulaj, an acclaimed restaurant on Poland's Baltic coast. His award-winning cuisine reflects old-world culinary history of Poland. On November 11, Chef Moroz presents an excludsive menu for the President of Poland and his esteemed guests during the Polish Independence Day celebration at the Royal Castle in Warsaw, after which he will travel to Chicago to take part in the King's Dinner.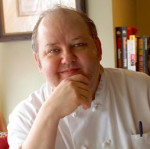 Chef Mark Grosz
Mark Grosz is the owner and executive chef of Oceanique, and eclectic seafood restaurant in the French-American style in Evanston. Since 1993, Oceanique has been ranked as the #1 seafood restaurant in the Chicago area by the prestigious Zagat guide. Oceanique has also won Wine Spectator magazine's coveted "Best of Award of Excellence" every year since 1994, recognized as having one of the 750 best wine lists in the world.
King's Thursday Dinners
Poland's last ruling monarch, King Stanisław Poniatowski (1732-98), was a patron of the arts famous for hosting "Thursday Dinners" to which he would invite prominent politicians, thinkers and writers of his time. The Warsaw Committee of CSCI is pleased to host a unique culinary event in the King's tradition featuring both a renowned chef from Poland, specializing in Pomeranian cuisine and an acclaimed Polish-American chef from Chicago, specializing in gourmet seafood.