In addition to participating in the American holidays of Thanksgiving, Christmas and New Year's, Russian-Americans also celebrate Russian Orthodox Christmas and "Old New Year," which is the beginning of the year according to the Julian calendar.
In honor of all the Russian and American holidays, the Moscow Committee of Chicago Sister Cities International, chaired by Aleksandra Efimova and Prince Piotr Galitzine, hosted its First Annual Holiday Party on Wednesday, January 8.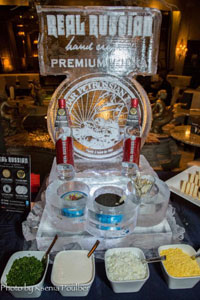 Petrossian caviar and Real Russian Vodka both served as sponsors for the event, which took play at the Drake Hotel's Palm Court. Petrossian donated a gorgeous ice sculpture that stood dramatically at the center of the room, as well as provided an authentic display of black caviar, served with Russian blintzes, crackers and traditional condiments. Once again, Real Russian Vodka generously supported the event, and the company's president and founder, Inna Feldman-Gerber, was on hand to speak to the guests and offer a toast to the crowd.
In addition, guests were treated to a concert performance featuring two talented Lyric Opera singers, Will Liverman and Richard Ollarsaba, who performed selections from Eugene Onegin and the Queen of Spades, both by Tchaikovsky. Guests were mesmerized by their amazing voices, which filled the opulent room and transported the listeners to the magical world of opera. St. Petersburg-born cellist Ian Maksin, who now lives in Chicago, also delighted the crowd with his charismatic style, soaring music and expert musicianship.
Laura Sekhar, executive member of the Moscow Committee, called the committee's first holiday party a tremendous success. "It was an exquisite evening that celebrated everything Russian culture has to offer," she said. "We look forward to many more successful events that bring our people closer together."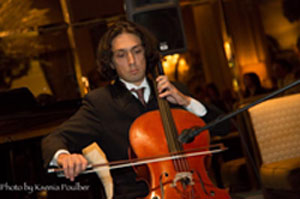 Marat Sedenkov, President of LaMarCo Systems in Northbrook, said the holiday party was a wonderful way for Russians and Russian-Americans to network with each other. "Aleksandra creates an environment where people can talk about their accomplishments," he said. "We're always curious and want to know what's going on at home."
William Lehr, a member of the board of the Harvard Business School Club of Chicago, said he was impressed by the event and enjoyed the small, intimate setting. "It was a wonderful, elegant event and a chance to extend the good relationships of the Moscow Committee to other members of the Chicago business community," he said.
Niamh King, vice president of programs at The Chicago Council on Global Affairs, said the holiday party allowed guests to connect with others who share in the vision of strengthening ties between the United States and Russia. "This year's Moscow Committee holiday party was a lovely opportunity to connect with leading Chicagoans who recognize the ongoing importance of US-Russia relations, cultural exchanges and partnership opportunities between our two great cities," she said.
Chicago has been a sister city with Moscow since 1997.
Photos by Ksenia Poulber.