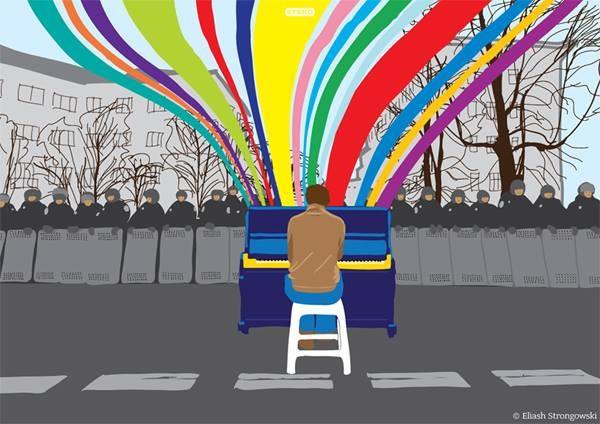 The Kyiv Committee of CSCI co-presented two May events at the Ukrainian Institute of Modern Art (UIMA) in Chicago on the impact of recent events in Ukraine, specifically on the protests at the Maidan in Kyiv.

On May 10, a public meeting was held with Ukrainian-born American George Sajewych, former journalist and producer of Voice of America, ​​ who was severely beaten during a protest at the Maidan. Sajewych shared his experiences at the Maidan and his views on the current situation in Ukraine. At the event, Kyiv Committee Chair Vera Eliashevsky presented Sajewych with a letter of recognition from Mayor Rahm Emanuel.
A volunteer with the self-defense units protecting the protesters, Sajewych was badly injured during the violent anti-Maidan crackdown on February 18. Saved by the motorcycle helmet he was wearing, and suffering from a broken arm and a concussion, George underwent surgery and was treated in a hospital in Kyiv.
Prior to retirement, George was a journalist and producer with Voice of America and a professional interpreter for U.S. delegations to Ukraine. He had served as interpreter for President Clinton, Vice President Gore, Secretaries of State Christopher and Baker and for numerous other U.S. officials and delegations.
The meeting was presented with the Chicago Business & Professional Group and the UIMA.

On May 17, Dr. Natalia Moussienko, Ukrainian philosopher and Fulbright scholar, gave a presentation and lecture on the works of art inspired by and created during the Maidan revolution.
Fires, burning tires, barricades, celebrations, flowers, music and expressions of love and anger, are some of the scenes that led to a national uprising that were depicted in the art presentation by Dr. Moussienko. For many of the protesters, the images of the revolution were just as important as the scenes of the revolution itself.
In the span of three months (November 21 – February 22) the city's main square was transformed into a work of art. Everywhere she turned she saw graffiti, murals, photos, posters, sculptures, installations, performance art, rock concerts and even perpetual piano performances, which continues to this day.
"No other country has seen this style of revolution – a revolution of creativity, a revolution that made artists of ordinary Ukrainians, and patriots of ordinary artists", stated Natalia Moussienko.
The event was presented with the Ukrainian National Women's League of America Branch 85 and the UIMA.