Blog Post by Dylan Rice
Director of Creative Industries – Music
City of Chicago Department of Cultural Affairs and Special Events—
Dylan Rice had the opportunity to recently represent the City of Chicago at Toronto's North by Northeast (NXNE) festival and conference. Below, he shares his experiences in Chicago's sister city of Toronto.
Toronto is one of Chicago's sister cities—or perhaps a well-loved European cousin who lives next door, with its dual French-English culture, "centre" not center, the late-hour creperies and poutineries that parallel Chicago's hot dog and burrito street-food haunts in number and diversity. As an aesthete's paradise, Toronto is home to a robust, internationally-inflected arts and culture economy, fostering the likes of Drake, Neil Young, Margaret Atwood, Jian Ghomeshi, and countless others across all sectors. And as the largest city in Canada, it also hosts the nation's largest music industry and is considered the nexus of the national music economy.
So it was with tremendous excitement —and first-timer curiosity —that I accepted the invitation to attend and speak at its flagship festival and conference, North by Northeast (NXNE), in June, representing the City of Chicago as the director of creative industries for music. Positioning itself as the Canadian counterpart to Austin's megalithic South by Southwest (SXSW), NXNE has grown in 19 years from a discovery showcase of Toronto musicians to a national multi-disciplinary convergence of creative and tech industries in the areas of music, film, interactive, visual art and comedy. My cherry-picked concert highlights:
Indie rockers St. Vincent and Spoon transfixed a packed yet peaceful crowd at Yonge Dundas Square (imagine: a larger Daley Plaza meets a less-LED-screened Times Square)
Electro-psychedelic group Tobacco doled out dizzying loops and jams at the historic Guy Massey Hall
And the hundreds of bands performing on the city's music corridor – Queen Street West – including Pitchfork fave Mas Ysa at The Great Hall, and the electro-punk interlopers Future Islands at Tattoo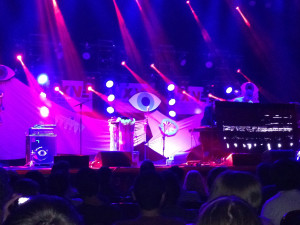 Chicago's music industry, the third largest in the U.S., can learn from other cities doing music advocacy, policy, and promotion—and benefits by strengthening commercial ties with these cities. With that in mind, the Music Cities Exchange roundtable hosted by Music Canada, NXNE, and 4479 Toronto (the city's new music promotion initiative) presented an opportunity to connect with other city leaders and share knowledge and innovations.
Joining me were other music officers and stakeholders from Austin, Toronto, Hamilton, Kitchener, and Montreal—a mix of policy makers, music advocates, artists, festival organizers, and tourism professionals. We discussed adaptable models and best practices on how the public and private sectors can work together to cultivate the growth of each city's music industry. Topics included licensing and regulation, tourism strategies, supporting self-employed artists, unifying a diverse community and breaking down silos. Watch the entire Music Cities Exchange conversation here.
This visit and the Music Cities Exchange are an important beginning to a cross-cultural, cross-industry conversation. How can "music cities" collaborate and share best practices to strengthen our music communities? How can we learn from one another to foster, promote, and retain our music talent? How can government "get out of the way" of artistic innovation and business development while keeping a regulatory role? There are more questions to be sussed out. Toronto begs another visit.
This spring Chicago will keep the conversation going. Save the dates: April 16-19, 2015, when the City of Chicago launches a new multi-arts Summit and Expo, including music, film, fashion, culinary, visual art and tech.  Keep checking www.cityofchicago.org/dcase for details.