Blog Post by Vera Eliashevsky
Chair of the Kyiv Committee of Chicago Sister Cities International
Independence Day and National Day celebrations around the world are important celebrations for those countries, just as the 4th of July is a major holiday in the United States when we celebrate our independence. Below, Kyiv Committee Chair Vera Eliashevsky shares how Chicago's Ukrainian community celebrated Ukraine's Independence Day on August 24 and why this year's celebration was as important as ever.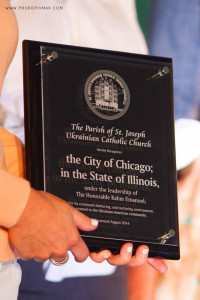 Sunday, August 24 marked the 23rd anniversary of Ukrainian Independence. With the events over the past year in Ukraine, this Independence Day was of particular importance to members of Chicago's Ukrainian community. We celebrated with our brothers and sisters in Ukraine and throughout the Ukrainian diaspora, standing together in remembrance of Ukraine's past struggle for independence and its present and future assertion of its nationhood and proud heritage.
The City of Chicago has long stood in support and friendship with Ukraine, and Mayor Rahm Emanuel has been a vocal supporter of the Ukrainian community in Chicago throughout his term in office. To commemorate this support, St. Joseph the Betrothed Parish presented an award to the City of Chicago for always supporting the Ukrainian community in preserving their heritage. Jenny Cizner of the Mayor's Office accepted the award on behalf of Mayor Emanuel at the Parish's 6th annual festival "Uketoberfest" on August 16. In addition, Ravi Baichwal of ABC 7 Chicago was in attendance to receive an award for his coverage of events on the Maidan in Kyiv. Helmets, similar to those that were used by Ukrainians on the Maidan for protection, were also presented with the awards.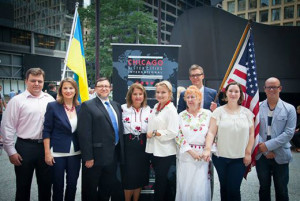 In celebration of Ukraine's Independence Day, a flag-raising ceremony was held on Daley Plaza on August 22. The ceremony featured vibrant performances celebrating Ukraine and a speaking program to honor Ukraine's independence. A proclamation from Mayor Emanuel was read that proclaimed August 24 "Ukraine Independence Day in Chicago".
This proclamation was also read this past weekend at the Ukrainian Days Festival in Smith Park, sponsored by the Ukrainian Congress Committee of Illinois. The festival was a joyous celebration of Ukrainian culture with music, dance, food, sports, crafts and family-friendly activities. There were also serious moments of remembrance dedicated to the memories of the fallen and hopes for peace in Ukraine.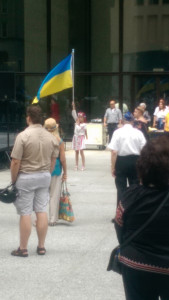 Ukraine's top singer, musician and songwriter Maria Burmaka was in Chicago performing at all three of these events. She presented a CD recording for Mayor Emanuel which she recorded with Peter Yarrow of "Peter, Paul and Mary" through a project initiated by the US Embassy in Ukraine as part of a campaign to teach tolerance and respect to school children through music.
Peter Yarrow founded Operation Respect as a nonprofit organization that aims to reduce school violence by teaching children tolerance and respect for diversity. His song "Don't Laugh at Me" was written for this program, which has been introduced into more than 22,000 schools in the United States and is now being taught in Ukraine. Maria Burmaka was sought out for this project by Peter Yarrow, and her Ukrainian version is a beautiful and touching song that works as well with adults as with children. Maria also received the rights to translate songs such as "Blowing in the Wind", "Where Have All the Flowers Gone" and "We Shall Overcome".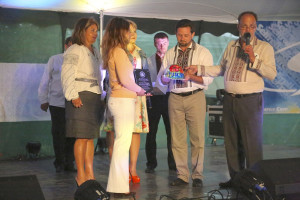 The words of these songs are particularly important to the Ukrainian people at this time. The music of Bob Dylan; Joan Baez; and Peter, Paul and Mary became anthems for the anti-war and civil rights movements here in our country in the late '60s and early '70s. It is symbolic that Maria has taken up the cause to fill hearts with music—hearts of Ukrainian soldiers and Ukrainians throughout the world. The words to these songs show that power comes not just in weapons and sanctions, but also in words, music and art.
Ukrainians are grateful to the City of Chicago and the U.S. for their support during this difficult time for the country. They remain proud and look forward to their peaceful and continuing independent future.