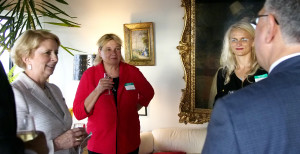 The Vilnius Committee of CSCI hosted a welcome reception for U.S. Ambassador to Lithuania Deborah A. McCarthy on Wednesday, September 10 at the John Hancock Tower residencies. The reception was hosted by Vilnius Committee members Stan and Sigita Balzekas.
Ambassador McCarthy was welcomed by Consul General of the Republic of Lithuania Marijus Gudynas, Chairman of the Board of the Lithuanian Foundation Marius Kasniunas, CSCI Executive Director Leroy Allala and members and guests of the Vilnius Committee of CSCI.
In her address, the Ambassador noted the importance of strengthening the ties between Chicago and Vilnius, sister cities since 1993.
During this visit, Ambassador McCarthy participated in a Chicago Council of Global Affairs lunch where she led the discussion on US-Baltic cooperation in the wake of Russian threats to European security.
Ambassador McCarthy also met with the Deputy Mayor of the City of Chicago, Steve Koch, visited the Balzekas Museum of Lithuanian Culture and met with local community groups and organizations.