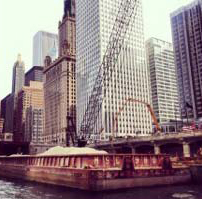 Blog post by artist Sarah Silverwood
Artist Sarah Taylor Silverwood has been the artist-in-residence for Chicago Sister Cities International in October 2014, supported by Arts Council England. Sarah has been visiting the city to make new connections, carry out research for new work on public housing, and leave drawings to be found around Chicago.
Like all cities, the beautiful Chicago skyline is in a constant state of change, and this is particularly visible when visiting public housing. Buildings that I had planned to visit had already been half demolished or redeveloped before I had a chance to see them. This contentious subject matter has been the subject of many artists work in the city: 3rd Rail, Jay Wolke, Leslie Hewitt and Bradford Young, to name a few. I met with Todd Palmer at The National Public Housing Museum to hear about their plans for a new museum, and visited various sites. I look forward to taking these ideas back to the UK and seeing how they develop.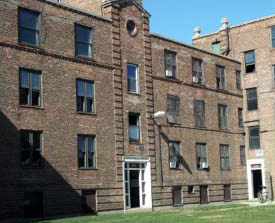 I also met with artists and contemporary art spaces across the city. For example, Jaclyn Jacunski at The School of the Art Institute of Chicago introduced me to the wide range of work they do, including their exhibitions programme and collaboration projects. I got to know artist duo The Industry of the Ordinary at their space at Mana Contemporary. I joined them for the private view and book reading from Lise Haller Baggesen and her project Mothernism – a blend of feminism, science fiction and disco. Tempestt Hazel at The Arts Incubator introduced me to their gallery space and ambitious programme of South Side reinvestment.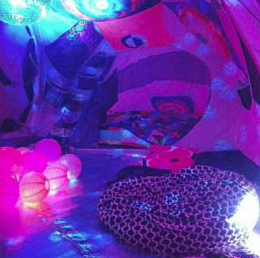 While in Chicago I worked with the web developer Appoet, who have launched a new smartphone app called Infused. Infused is a hyperlocal broadcasting and publishing app you can use to leave art in physical locations. As users pass by these locations in real life, they will receive a push notification. I have left 50 drawings to be found in Chicago. You can follow my walking route around the city and download free digital artworks as you go. This allows you to experience the work in a public setting, where the artist intends you to see it. To download the app, go to https://infused.today/ or go to www.sarahsilverwood.com/chicago for more details.
Before the trip I made drawings of Chicago in the two years I spent planning my trip there. These 'imaginings' are dream-like; half fantasy, half reality. These drawings have formed the basis for 'Book One', which is now available to buy through my website. Each book is unique with its own custom made cover. Go to www.sarahsilverwood.com/shop for more details.
Thanks to Chicago Sister Cities International for hosting me for the residency.
Picture 1 – Chicago River, Picture 2 – Lathrop Public Housing Project, Picture 3 – Mothernism by Lise Haller Baggensen at Ordinary Projects, Picture 4 – 'Book One' by Sarah Taylor Silverwood.
All photographs copyright Sarah Taylor Silverwood.