Blog post by artist Ayako Kato
Artist Ayako Kato participated in the Chicago-Lucerne Artist Exchange and visited Lucerne, Switzerland from August 10-27, 2014.
How does the living environment, especially the condition of nature, influence our behavior, ways of thinking, life and/or the work of art?
I had this simple and complicated question in my mind before I began my artist-in-residence in Lucerne. I am originally from Japan and this is my 10th year in Chicago and total 16 years in the United States. Growing up in very hilly area (and also near Pacific Ocean), my mind somehow misses, even just seeing and sensing, those natural environments even though currently my life activities don't have to be directly staged in such environment. However, interestingly, my dance creations have been strongly engaged with and in search of internal nature. So I was very curious about what I could find in terms of the relationship between nature, people and their life during the visit, although it was very short.
Crushing generalizations of Switzerland after mountain train trip or finding something in common among contemporary beings.
Thanks to one of my artist colleagues who works for a cruise ship, I was able to experience five hours on a Lake Lucerne Cruise. Also, thanks to the one of the Lucerne Committee members, I had a chance to go out to the mountain on a train trip during the stay. Both are truly magical experiences in nature.
The plan for my mountain trip via train was to leave from Lucerne around 7 am, go to Chur, travel to Zermat, head to Bern and come back to Lucerne around 9 pm. Basically, I planned to go around the country among the mountains in only one day. On the special train called the Glacier Express, I could even listen to a tour guide in Japanese via headphones to learn about the basic information about the mountains; railway;, tunnel/underground system; economic system; life of dairy farmers; traditional foods; history of language; and religions in the regions.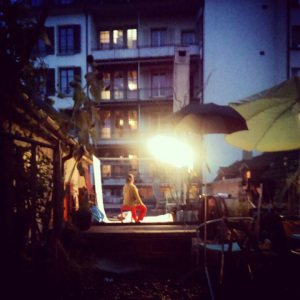 The scenery was marvelous (as you see in the photos) and it was very soothing to encounter the view of farmers working in the mountain fields. However, on the way back from the trip, the train I took stopped before it reached to Bern due to a fatal accident. Passengers needed to get off the train, and I asked a lady who helped me to lead the way whether this type of thing happens often because this reminded me of current Japanese conditions. Yet, her answer was "No." However, when I shared my experience with one of Swiss artists, he said that actually, this happens often in the country, including the high suicide rate in the mountain areas. He mentioned the tough financial condition of farmers. He admitted Swiss people often go hiking and enjoy being in nature, but that life style is for people in cities. Living in nature is both a soothing and tough reality for farmers, and their difficult reality of dealing with both contradictory conditions, nature and a man-made monetary system, is often not understood well by people living in urban areas. As matter of fact, the farmers I saw were definitely working hard on Sunday due to the rare sunny weather during this summer. And the artist explained the rugged characteristics of Swiss people, and that the Swiss society is extremely severe about financially responsibility and independent. His story reminded me of the pressure which Japanese society gives to men, and this type of stopping trains issue has been happening daily since the Japanese economics went down around the late 90s. From this experience, I understood further that the mental pressure which contemporary economic systems creates on people are a common issue in industrialized countries. And no matter how much the external "nature" is rich, once our internal "nature," mind, is immersed in the capitalistic competitive idea, responsibilities and pressure, it becomes so hard for us to remember the core value of life.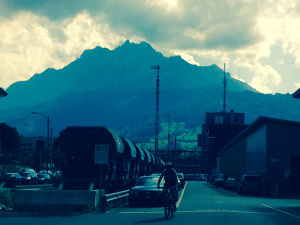 No mountains?
During the stay, I created a 16 mm black and white short dance film in collaboration with filmmaker/photographer Ralph Kuehne who is a former artist-in-residence in Chicago. His work is known for its surrealistic taste with beautiful tones of colors. I wanted to shoot the film on the mountain or nature location, at least a part of it, yet respecting Ralph's aesthetics, all the scenes of the film were taken in front of walls in the city and an apartment rooftop, and in alleys behind restaurants. Therefore, secretly, I committed to have mountains in my mind while I danced/moved. However, during the collaboration process, what was interesting to me was gradually sensing the possible overlap of metaphorical interpretation with Ralph's suggestion and the content I am usually wondering. For example, Ralph suggested for me to blow a plastic bag with a hair dryer by keeping the still action of the movement. While I was blowing the bag, it felt wonderful since it felt like I was attacking the mass-produced commercial culture. But I also felt the metaphor of humans trying to keep blowing up the culture.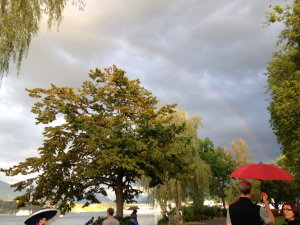 Exchange through Live Performances
I also performed at Buvette, an open-summer bar beside Lake Lucerne with experimental music played by Marc Unternährer, tuba; Hans-Peter Pfammatter, keyboard; Sebastian Strinning, tenor sax/bass clarinet; and Markus Lauterburg, percussion. The musicians are organizing an experimental music venue called Mullbau, and I truly admire that their persistence of activities as well as the continuous exchange between Lucerne and Chicago music scenes. During the performance, the weather was rainy and sunny. Yet thanks to that, I twice saw a rainbow while I was performing!
I also danced at the akku gallery in conjunction with photographer Michelle Kohlar, who captures transforming construction sites, usually with no people in the photograph, in Emmenbrücke. I also exchanged movement works with dancer/choreographer Beatrice Im Obersteg. With eyes closed, we tested how we could sense and visualize the other's movements around one another.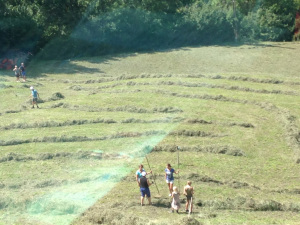 Dance and Trance
I also visited rehearsals of Lucerne dancer/choreographer Irina Lorez who was working for her upcoming October performance, "How to Get High",  at music and dance theater Südpol (South Pole). She and her dancer I-Fen were working through the breathing method learned from Indian shaman to reach the trance state of being. Through the experience, I found out that my dance is performed in the sort of trance state of being. And I became curious how others who dance feel while they are dancing. Interestingly and thankfully, while Irina and I were meeting, we found ourselves kindred spirits in terms of working on an experiential movement piece, and she invited me back as her dramaturgic collaborator in mid-October for a week. Each day from Monday through Friday, 11 am – 5/6 pm, I was in the theater Südpol. She was commissioned by the venue and had the actual theater space for three weeks to finalize her production. She had a team of two lighting designers, one from Berlin and the other from Uruguay. The composer was originally from Italy. Irina is known as a very committed choreographer, yet she was very open to exchange any opinions with me and adopted what I sincerely shared with her to make the piece superb. I would say this exchange was one of the most successful collaborations in my career because of our true respect of one another as artists.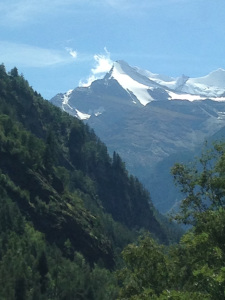 Yes, Mountains!
I had a chance to collaborate with saxophonist Urs Leimgruber in October. He is a phenomenal musician and his current focus is improvisation, jazz and new music. For me, to perform with someone who has been pursuing the improvisation music form for over 30 years was very fortunate, and even though this was my first time to meet and perform with him, I was able to exchange a lot of information and develop my notion of "what improvisation is" further based on the genuine sense of the form. And while I was talking with him after the performance, I could share my observation of commonness between the Swiss and Japanese people.
After I shared my perspective upon how both Swiss and Japanese people hold awe, respect and love for nature as something bigger than human beings, I shared the thought that Japanese people are strong, but gentle. and he replied that Swiss people are gentle, but strong! And Urs agreed saying that he is originally from the mountain area and the strength must come from persevering and surviving in the mountain environment.
Finally, for the second visit, I could find one of the affirmative answers to what I had been wondering: "How nature influence humans."  Then, I could understand better how climates of the land influence both an individual and a collective way of thinking and actions, resulting in historical, cultural and ancestral customs which produce different economic and political results. In an artists' case, experiences in addition to the accepted way of thinking and doing things changes the approach to the craft. And both unconscious and conscious individual associations with nature from the past through the present reflects upon how artists think and create their works through their media, creative method, theme and aesthetics.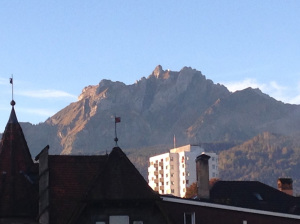 Conclusion: 451 mountains and more than 450 kinds of cheese in 1/3 size of Illinois, and yodel which differs from each mountain village to village
Switzerland is certainly famous for its beautiful mountains, lakes, yodel, tasty chocolate, and cheese. However, the interesting fact I found about Switzerland was that Swiss people don't really care about the height of mountains. They are more attracted and proud of each mountain's beautiful and unique features. They especially adore the mountains of their own areas. The names of the mountains are masculine and feminine like Mount Pilatus and Mount Rigi in Lucerne. It is said that a dragon was living on the Mount Pilatus in late medieval times. Mount Rigi is also known as Queen of the Mountains and has been an inspirational motif for painters.
During my October stay, I luckily encountered the Cheese Festival in Lucerne. In the center of the old town, small booth/shops were set up, and I could taste varieties of cheese and cheese fondu. Heaven.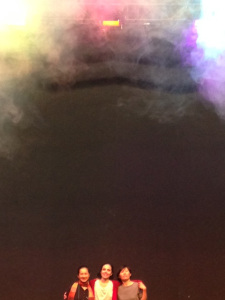 During the first stay, I had the chance to dine and have coffee 19 times with Swiss people out of 17 days! Now when I look back, those experiences were like mountain hiking, although they might have been just initial good warm up for me to get ready to know the country as well as the gentle, yet strong people. I very much miss tasty drinking water from Lake Lucerne, Cappuccino, Wine, Bread, Cheese, Farmer's Markest, the mountain view which transforms every second and the lovely people.
Vielen Dank to all the kind and generous support and experiences I received. And Special Thanks to the Swiss Benevolent Society, Beatrice Weiss, Rose Pritchett, Samuel Burckhardt, Marie-Simone Pavlovich, Susy Gubelin, Claudia Willi, Chicago Sister Cities International, Erik Kinnhammar, Kind Hospitality in Lucerne, Marc Unternährer, Marie-Cécile Reber, Jadi Koawlska, Isa Wiss, Beatrice Im Obersteg, Patrick Müller at Südpol, Christoph Erb, Andre Schürmann, Vera Renggli, wonderful artistic exchange with Ralph Kuehne, Irina Lorez, I-Fen Lin, Michelle Kohler, Marc Unternährer, Hans-Peter Pfammatter, Sebastian Strinning and Markus Lauterburg and Urs Leimgruber.
All photos by Ayako Kato.