Thus far 2015 has been a wonderful year for school exchanges between Chicago and Paris schools who have shared ideas via email, postcards, and Skype for some time and now have had the chance to cross the Atlantic and meet in person. These exchanges are based on a common educational project chosen by the teachers and students and studied from their perspectives on either side of the ocean.  They choose subjects as varied as their city's architecture and neighborhoods to fashion or sports to produce their own "tale of two cities."
So far this year Lincoln Park High School has visited its sister school, Lycée Louis le Grand, in Paris and Louis le Grand will be in Chicago in the Fall.  This will be their 10th year to exchange.  Lycée Fénélon came to Jones College Prep in April and Jones will visit Fénélon in the Fall.  Alcott College Prep visited Collège George Sand in April with a turn-around visit from George Sand to Alcott in May.  The students of Collège Sévigné spent 10 days with the students of Chicago High School for Agricultural Sciences (Chicago AG) in April.  The French students were delighted to see such an unusual school where they have an extensive farm and students actually participate in all aspects of agriculture while following a typical academic curriculum.  A visit to Von Steuben Metropolitan Science Center from Lycée Rodin is also scheduled for Fall with the Von Steuben students going to Paris in the Spring.
To witness the enthusiasm and excitement of all of these students as they communicate with each other and compare points of view and cultural customs is most encouraging for the future of our global society.  Many will remain friends and perhaps colleagues for years to come!
Furthermore, this year Chicago Sister Cities International was able to award certificates signed by Mayor Rahm Emmanuel to Alcott College Prep and Collège George Sand commemorating their official exchange as acknowledged by the City of Chicago and the Rectorat de Paris. The other schools will receive certificates upon completion of their exchange visits.
The Paris Committee is proud that over the past few years they have been able to award some small stipends to the Chicago students who go abroad.  This year they gave a gift to Alcott College Prep which they used to attend a cooking class in Paris which is pictured in the below photo gallery, along with a certificate ceremony and the students' other activities both in Paris and Chicago.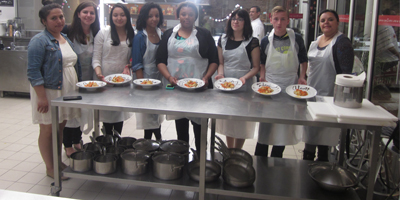 Education Exchange PhotosView