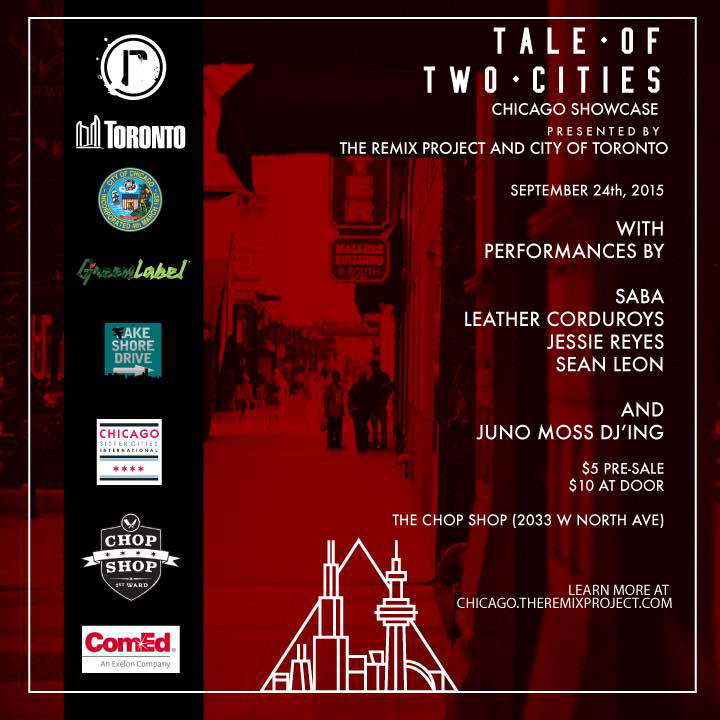 Join the Toronto Committee of CSCI at the Tale of Two Cities Chicago Showcase, presented by The Remix Project and the City of Toronto and sponsored by the City of Chicago, the Toronto Committee of CSCI, Green Label, Fake Shore Drive, XVThree, Chop Shop 1st Ward and ComEd.
Showcasing Toronto and Chicago as global cultural leaders in music and arts, Tale of Two Cities features performances by Saba, Leather Corduroys, Jessie Reyes, Sean Leon and Juno Moss DJ-ing.
This event establishes economic bridges while strengthening cultural citizen-based relationships; creates new business partnerships within Toronto's and Chicago's music and entertainment industry through current leaders and influencers; generates employment opportunities where artists in both cities can gain revenue, as well as new career opportunities for Toronto-based artists by exposing them to the Chicago market and vice versa; and Creates new music with artists from both Toronto and Chicago through collaboration.