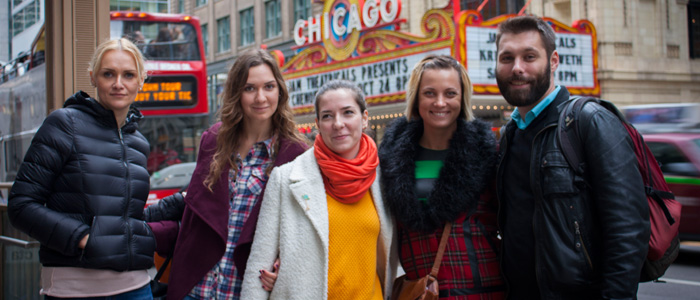 Five Ukrainian leaders participated in the Open World program from October 23-31,2015, in Chicago examining public health issues, specifically HIV and AIDS. Chicago Sister Cities International hosted the delegation. Managed by the Open World Leadership Center, a support agency of the United States Congress, the Open World program is designed to enhance understanding and capabilities for cooperation between the United States and the countries of Eurasia by developing a network of leaders in the region who have gained significant, firsthand exposure to America's democratic, accountable government and free-market system. The Open World program works to link Members of Congress to Eurasian leaders and is an instrument for Americans engaged in citizen diplomacy.
While in Chicago, the delegates met with public health leaders, decision-makers, and social service professionals to gain an understanding of public health policy in Chicago and the United States. The visiting delegates were Olexandr Yankovy, Iryna Kovalchuk, Svitalana Bubenchykova, Mariia Kasatkina, Oleksandra Chernoostrivska and Illya Tykhonov accompanied them as a facilitator.
In Chicago, the Open World delegation met with representatives from Ukrainian Medical Association of North America, AIDS Foundation of Chicago, University of Chicago Medicine, Center on Halsted, University of Illinois Center on Global health, and Ruth M. Rothstein CORE Center. In addition the group met with a representative from U.S. Senator from Illinois Mark Kirk's office and Dick Durbin's Office.
Homestays allowed the Open World delegates to experience American family life. They also took part in several cultural and community activities, including the legendary Andy's Jazz Club, Million Dollar Quartet Musical, and activities in Chicago's Ukrainian Village neighborhood at the Ukrainian National Museum, the Ukrainian Cultural Center and the Ukrainian Institute of Modern Art.
The Open World Leadership Center awarded a grant to the U.S.-Ukraine Foundation to administer this and similar exchanges in 2015.
Since its founding by Congress in 1999, the Open World Leadership Center has enabled some 24,000 current and future Eurasian leaders to experience American democracy, civil society and community life; work with their American counterparts; stay in American homes; and gain new ideas and inspiration for implementing change back home. More than 7,100 American host families and their communities in all 50 states have partnered with Congress and the Open World Leadership Center to make this ambitious public diplomacy effort possible. The Open World program currently operates exchanges for political and civic leaders from Russia, Ukraine, Moldova, Armenia, Georgia, Azerbaijan, Kazakhstan, Kyrgyzstan, Serbia, Tajikistan, Turkmenistan, Uzbekistan, Mongolia and Kosovo.