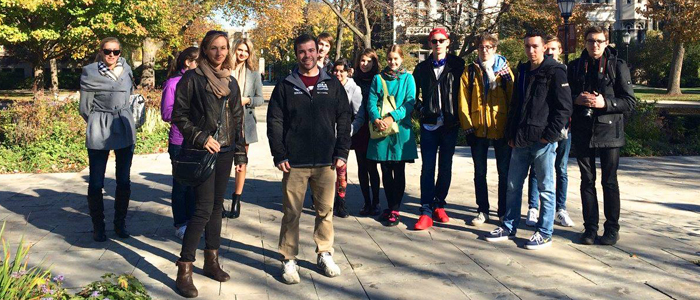 During the month of October, the Prague Committee of Chicago Sister Cities International welcomed two groups of students from Prague participating in the sister school exchanges.
Twelve students, teachers Jana Srpová and Alena Kapounová, and the principle of Academické Gymnázim Štěpánská, Milan Štěrba, arrived on October 7, 2015 and spent ten days in Chicago. Students attended classes at their partner school, Northside College Prep HS, but besides experiencing academic life, they of course also got to enjoy Chicago and visit the most important Chicago landmarks. This was already the fourth exchange between Štěpánská–Norhtside Prep Sister Schools. The partnership was established in 2009 and the exchange takes place every two years. Northside Prep students will travel to Prague next April.
For the seventh time already, students from Gymnázium Nad Alejí in Prague 6 participated in the sister school exchange program with their partner, Walter Payton College Prep on October 23–November 2, 2015. The Prague Committee of Chicago Sister Cities International provided not only financial support—sponsoring various sightseeing events—but several committee members took the Prague students into their homes and hosted them for ten days.
The Prague Committee of CSCI would like to recognize Mr. and Mrs. Randy and Colleen Kadlec, Mr. and Ms. Laddie and Mrs. Jan Polz and Ms. Ann Melichar and thank them for their generosity. The eleven Prague students spent two days at Walter Payton attending classes and socializing with their new American classmates and friends. Ms. Irena Cajkova, the head of the Educational Initiatives of the Prague Committee of CSCI, organized a rich program and hosted the two Prague teachers, Ms. Klára Braunová and Ms. Yvetta Popsíšilová.
Four years ago, Ms. Cajkova also established a partnership between Gymnázium Nad Alejí and the T. G. Masaryk Czech School; every year the Nad Alejí students visit TGM and spend the day with the Czech-American children, organizing varied literature and art workshops.
This year, the program was dedicated to a great Czech writer, Karel Čapek, the author of the play R.U.R., which contributed the term robot to the world dictionary.