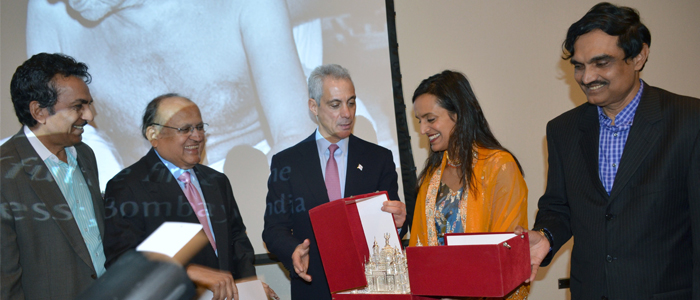 On October 23, 2015, the Delhi Committee of Chicago Sister Cities International celebrated the legacy of Mahatma Gandhi at an event at the Radisson Blu Aqua Hotel Chicago. Below, Smita Shah, Chair of the Delhi Committee of Chicago Sister Cities International and organizer of the event, shares her thoughts on the well-attended and successful event.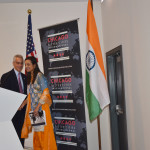 The Delhi Committee of Chicago Sister Cities International celebrated the legacy of Mahatma Gandhi on October 23, 2015, with special guest Rahm Emanuel, Mayor of the City of Chicago.
This is the second year that the Delhi Committee hosted the event to celebrate the legacy of Mahatma Gandhi. Over 250 people attended, including Ausaf Sayeed, the Consul General of India, many prominent Chicagoans, and community leaders. The event was held at the Radisson Blu Aqua Hotel in Chicago, where the chef created a special Indian fusion meal to further bring cement the celebration of exchanges and sister cities.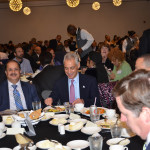 While Mahatma Gandhi did not believe in any publicity or memorialization of his name, it is important that he is remembered not only in India, but outside India as well. As Martin Luther King, Jr. said in his Psalm Sunday sermon in 1959, "Mahatma Gandhi proved to be the greatest conqueror that the British Empire ever faced. He was able to achieve, through love and non-violence, the independence of his people and break the backbone of the British Empire."
With all the success that Gandhi had, the power behind the success was the guiding strength of his own character, the purity of his actions, and the truthfulness in his words.
The Consul General spoke about the harmony in independent India and the progress that India has made since its independence. Mayor Emanuel noted that he is inspired by Mahatma Gandhi, and when he visited India a few years ago with his family, it was his privilege to visit the land of Gandhi rather than simply another country.
Community leaders also appreciated Mayor Emanuel's commitment to remember and recognize Mahatma Gandhi, and presented him with a model of the Taj Mahal. This was a gift handcrafted by workmen in Hyderabad, which is the hometown of the Consul General, using techniques craftsmen pass down from generation to generation to create an outstanding work of art using all local materials. It is somewhat significant as Mahatma Gandhi always wanted to promote not only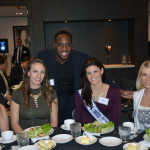 industrialization, but also handicrafts of the villages where people could utilize their skills, create outstanding art, and still make a living. Keerthi Kumar, Babu Patel, and Niranjan Shah presented the gift to the Mayor.
The celebration included a slideshow of Gandhi, and some of his famous quotes were presented along with videotapes.  The event was well attended by individuals such as Alderman Joe Moore, Alderman Will Burns, City Treasurer Kurt Summers, World Business Chicago President & CEO Jeff Malehorn and Chicago Sister Cities International Chairman Sam Scott. We were very grateful for the sponsorship of Magellan Properties, the Radisson Blu, and Michael George.