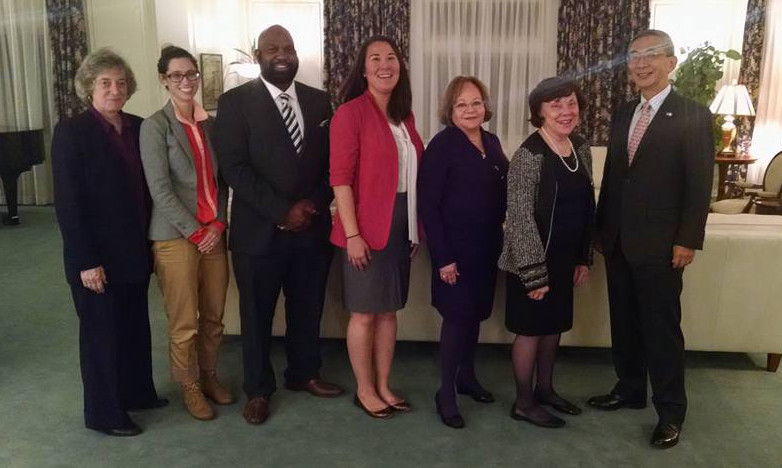 From November 8 to 14, 2015 six interdisciplinary social service professionals from the metropolitan Chicago area engaged in a weeklong exchange with social services agencies in Osaka, Japan. While exploring the theme of this year's exchange, "Working with Marginalized Populations," the delegation from Chicago dialogued with Japanese professionals about their culture and best practices.
Site visits were arranged that reflected this theme. Accordingly, delegates visited diverse settings including a community-based program for people with mental illness that has struggled with prejudice from neighbors, an ethnic heritage school for Korean-Japanese, LGBT advocates working for greater legal rights and social inclusion, and outreach programs for the homeless. An overview of the Japanese national and Osaka city welfare systems was provided by several ward officials to kick off the program. Delegates also learned about services for the elderly, programs for the developmentally disabled and hospice and other medical care services.
The exchange concluded with a one-day conference where delegates had an opportunity to discuss best practices between cultures. The discussion included cultural differences in how social service objectives are generated and challenges to openly addressing societal problems. A number of social services workers who participated in exchanges in Chicago in years past also attended the final day conference. The Chicago delegates will now develop ways of sharing their observations and insights at their respective workplaces, for supporters of the exchange, and for the community at large. A former exchange participant reported, "This was a once in a lifetime opportunity. I and my social service practice have been changed forever by this experience."
The Osaka-Chicago Social Services Exchange was an initiative that began in 2008 with a focus on understanding the needs and supports for youth and families, persons with disabilities, and older adults, and a goal of improving systems and service delivery to these vulnerable populations. The exchange convenes interdisciplinary professionals in yearly exchanges alternatively held in Chicago and Osaka for mutual sharing of best practices to improve social services in our global community, to build relationships and to deepen cultural understanding and discourse. The 2015 delegates to Osaka were Leslie Cook, Jonas Ginsburg, Akane Kumagai, Maria Loayza, Norm Kerr and Fran Nathanson.