2016 Global Youth Ambassadors Leadership Summit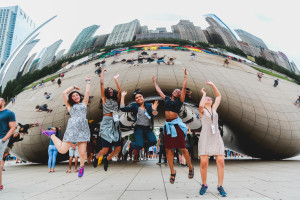 Last year, from July 23–30, 2016, Chicago Sister Cities International and the University of Illinois at Chicago presented the inaugural Global Youth Ambassadors Leadership Summit.
Nine Chicago students participated in the Summit: six from Benito Juarez Community Academy, one from Robert Lindblom Math & Science Academy, one from Jones College Prep, and one from Holy Trinity High School.
They were joined by eleven international students from Chicago's sister cities: one from Birmingham, United Kingdom; one from Bogotá, Colombia; one from Durban, South Africa; one from Lucerne, Switzerland; two from Mexico City, Mexico; one from Paris, France; and four from Toronto, Canada.
The participants had the opportunity to meet a number of women leaders in Chicago in a diverse cross-section of fields. The leaders shared their thoughts on leadership and discussed their path to success. Speakers included Jessica Droste Yagan of Impact Engine, Gabrielle Buckley and Margo W. O'Donnell of Vedder Price, Tracy Baim of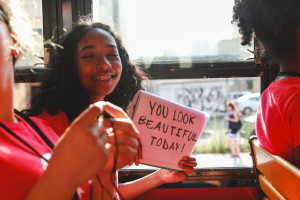 Windy City Media Group, Amy Guth of the Association of Women Journalists Chicago, Maril MacDonald of Gagen MacDonald Karyn Pettigrew of Fashion Fair, Cheryl Burton of ABC 7 Chicago, Anne Pramaggiore of ComEd, and Deputy Mayor of Chicago Andrea Zopp.
Panel discussions and workshops gave the girls the opportunity to learn about self-empowerment and activism. They participated in a zine-making workshop for personal storytelling with Monica Trinidad; advocacy discussions with Brian Stahulak and Maria Rivera of Ann & Robert H. Lurie Children's Hospital of Chicago and the Illinois Caucus for Adolescent Health; a tour of 1871 with a focus on girls in STEM; project work at the YouMedia Learning Space at the Harold Washington Library Center; a workshop with Global Girls, Inc.; a workshop with Assata's Daughters; a panel presentation on activism with Maria Pesqueira of Mujeres Latinas en Acción and Tanya Cabrera & Veronica Arreola of the University of Illinois at Chicago; and a panel discussion with Orla Mc Breen, Consul General of Ireland to the US Midwest, and Vuyiswa Tulelo, Consul General of South Africa in Chicago.
The girls also had the opportunity to explore Chicago and learn about its history and culture. They visited a number of neighborhoods, including the Near West Side, Streeterville, River North, the South Loop, Chinatown, the Loop, Hyde Park, Pilsen, and Greek Town. They also visited Jane Addams Hull-House Museum, Keith House, Chicago Women's Park and Garden, the DuSable Museum of African American History, the National Museum of Mexican Art, Navy Pier, Chicago Public Media, Lyric Opera of Chicago, WGN Radio, Tribune Tower, ABC 7, Millennium Park, and took a Chicago River Architecture boat tour.
On the final day of the Summit, the participants delivered final group presentations at Chicago City Hall Council Chambers, where Chicago Deputy Mayor Andrea Zopp spoke to them. The girls had a week long project where they were asked to spend the week exploring the question, "What does it mean to be a strong, confident girl in your society?" On this last day, they presented their projects through video, spoken word, testimonials, and slides in front of a public audience.
---
Photo Galleries

Meet the ParticipantsView photos


See the Week in PicturesView photos
Photos by: Patrick Pyszka and Ariana Limas.
---
Watch and Listen to Highlights from the Summit on Chicago Media