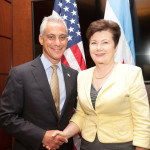 Mayors and government leaders from Chicago's sister cities are currently in Chicago as part of the Chicago Forum on Global Cities, including Leader of Birmingham City Council John Clancy (Birmingham, United Kingdom); Mayor Frank Fahy (Galway, Ireland); State Minister for Urban Development and Housing Dr. Dorothee Stapelfeldt (Hamburg, Germany); Mayor Vitaly Klitschko (Kyiv, Ukraine); and Mayor Hanna Gronkiewicz-Waltz (Warsaw, Poland). Chicago Sister Cities International and World Business Chicago  are civic partners of the forum.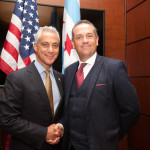 Mayor Rahm Emanuel met with the mayors, who will also attend meetings and receptions hosted by Chicago Sister Cities International committees.
Mayor Emanuel and Mayor Klitschko also signed a reaffirmation of the sister city agreement between Chicago and Kyiv on the occasion of the 25th anniversary of the relationship between the two cities.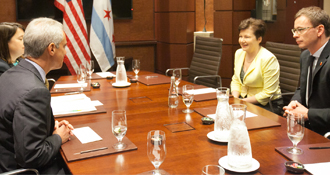 Photo GalleryView Images