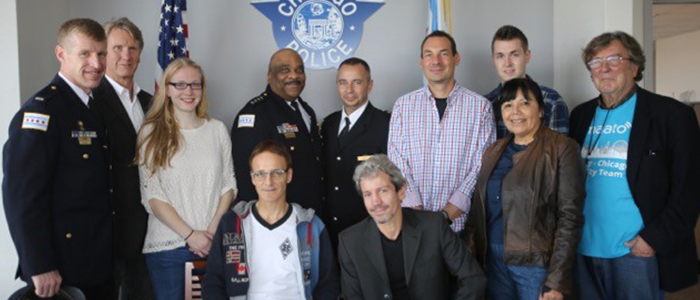 Six police officers from Hamburg were hosted by the Chicago Police Department over the weekend of the Bank of America Chicago Marathon. The officers ran the marathon and took part in a CPD-arranged Chicago-Hamburg Service Day.
CPD Lt. Michael Casey generously managed the visit of the Hamburg officers. Lt. Casey picked up the Hamburg police officers from the airport, provided general transportation, hosted several of the officers at his home, designed and arranged the official Chicago-Hamburg Service Day (riding with the SWAT Team, visiting the SWAT team academy) and set up Chicago cultural experiences with Chicagoan Bill Faber, including sightseeing, dinners and Chicago blues music.
Officer Maehl from Hamburg and Officer Casey from Chicago received a certificate celebrating the Chicago-Hamburg marathon sister city partnership. This certificate is to be presented to the HASPA Hamburg Marathon director Mr. Thaleiser.
The Hamburg police officers had the opportunity to meet with Chicago Police Superintendent Eddie Johnson at CPD headquarters. Superintendent Johnson expressed his full support of the Chicago-Hamburg police exchange.
The Hamburg Committee of CSCI invited all marathon runners from Hamburg, including the six Hamburg police officers, to a pasta party the day before the marathon. The Committee also organized a cheering station at the marathon to cheer on the police officers and all runners from Germany and around the world.