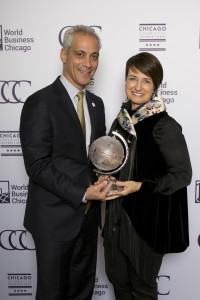 World Business Chicago and Chicago Sister Cities International hosted the annual Chicago Consular Corps Gala: "A Tribute to Our Global Partners" on the evening of Wednesday, November 9, 2016 at the Hilton Chicago (720 S. Michigan Avenue). Mayor Rahm Emanuel and Amy Rule, and the Dean of the Chicago Consular Corps, Patricia Maza-Pittsford and Phillip Pittsford served as Honorary Chairs of the Gala. The international guest list included members of the 86 foreign and honorary consulates in Chicago.
"For more than 50 years, the Gala has honored the Chicago Consular Corps and has evolved over time to also celebrate our city's remarkable civic and business leaders," said Jeff Malehorn, President and CEO of World Business Chicago. "We are proud to continue the tradition this year as we recognized the consulates and award recipients for their tireless efforts in representing Chicago as a premier global city."
The Gala had an attendance of more than 600 and raised over $860,000 to support the Chicago Consular Corps Scholarship at the University of Illinois at Chicago, and the work of WBC and CSCI.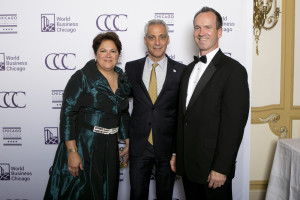 This year, the Chicago Consular Corps honored Patricia Woertz – recently retired chairman of the board of directors and chief executive officer of Archer Daniels Midland Company, where she fulfilled a decade of service – with the prestigious Global Citizen Award. The award honors an individual who has made an extraordinary contribution to Chicago's international reputation, stature and global reach.
Other awardees included: GE received the Corporate Ambassador Award, honoring its efforts in raising Chicago's profile as a premier global business destination, its steadfast commitment to the community and its contributions to the economic growth of the city; Microsoft received the ChicagoNEXT Award, recognizing its commitment to Chicago's tech community; and Brett August, Co-Chair of the Paris Committee of CSCI, received the Chicago Sister Cities International Volunteer of the Year Award. The award honors a CSCI volunteer committee member who has played an important role in furthering CSCI's mission to promote Chicago as a global city, developing international partnerships and networks, and sharing best practices through citizen-to-citizen connections.
Co-hosts of the gala were Greg Brown, Chairman and CEO of Motorola Solutions; Oscar Munoz, CEO of United Airlines; Pin Ni, President of Wanxiang America Corporation; Patrick G. and Shirley W. Ryan Foundation; Michael J. Sacks, Chairman and CEO of GCM Grosvenor; and Sam Scott, Chairman of Chicago Sister Cities International.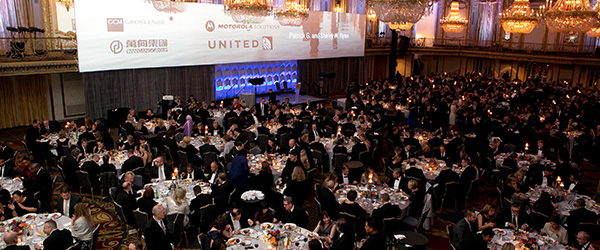 2016 Chicago Consular Corps Gala Photo GalleryView Photos