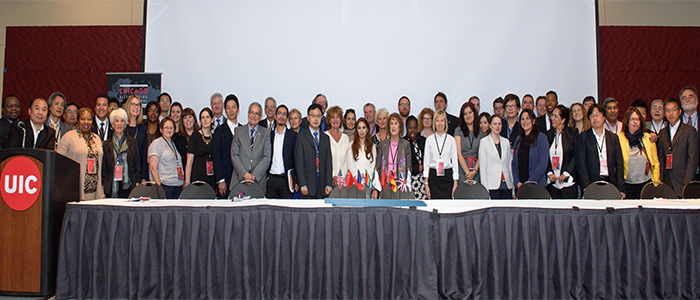 In celebration of the 20th anniversary of the first social services exchange hosted by Chicago, the Social Services Committee of CSCI convened a two-day conference in Chicago on June 9–10. To commemorate this model of cultural collaboration and sharing of best practices, all seven international cities that have participated in past exchanges came together to explore topics around the theme of "Diverse International Approaches to the Prevention of Violence & Abuse."
The participating cities were Birmingham, United Kingdom; Casablanca, Morocco; Chicago, Illinois.; Durban, South Africa; Hamburg, Germany; Osaka, Japan; Paris, France; and Shanghai, China.
The goals of the conference were to:
Learn from international delegates about a variety of cultural visions and best practices
Address the interconnected social challenges faced by cities around the world
Strategize on how to expand cross cultural collaboration to improve social services globally
Network with internationally-minded social services professionals
Featured keynote addresses were by Bryan Samuels, Chaplin Hall Executive Director at the University of Chicago Robyn L. Golden, Director of Population Health and Aging Services at Rush University Medical Center.
See Photos from the Conference
Day One: Diverse International Approaches to the Prevention of Violence & Abuse
Student Center East Illinois Room, 750 S. Halsted Street
Friday, June 9, 2017
8:30am              Registration
8:45am              Welcome remarks

Kathleen Borland, Chair, Social Services Committee, Chicago Sister Cities International
Leroy Allala, Executive Director, Chicago Sister Cities International
Dr. Melanie Leonhard, Senator, Free and Hanseatic City of Hamburg, Office of Labor, Social Affairs, Family and Integration
Kathryn Engel, MA, Director of Internships in Applied Psychology; Lecturer and Faculty Fellow, Honors College, University of Illinois at Chicago

9:00am              Keynote address: Bryan Samuels, MPP, Chapin Hall Executive Director, University of Chicago
9:45am               Keynote address: Robyn L. Golden, LCSW, Director of Population Health and Aging Services, Rush University Medical Center
10:30am            Break
10:45am             Panel discussion: The Face of Violence and Abuse in the participating cities of Birmingham, Casablanca, Durban, Hamburg, Osaka, Paris and Shanghai.

Moderator: Kathleen Borland, Chair, Social Services Committee, Chicago Sister Cities International

12:30pm            Break for lunch
1:30pm               Cross-cultural best practices panels

Panel 1 – Child Abuse: Including physical, sexual and emotional abuse and neglect

Moderator: Robert Wolf, Consultant, Executive Service Corps of Chicago
Room: Burnham Hall 309

Panel 2 – Youth Violence: Discussion of root causes and potential solutions to violent behavior of youth in urban communities

Moderator: Dave Simpson, Youth Guidance, Director of Counseling, Prevention and Youth Workforce Development Programs
Room: Lecture Center C1

Panel 3 –  Elder Abuse: Including physical and sexual abuse, emotional or psychological abuse, neglect, abandonment, financial or material exploitation, withholding resources necessary to maintain health and well-being and self-neglect

Moderator: Phyllis Mitzen, Co-director, Center for Long-term Care Reform at Health and Medicine Policy Research Group
Room: Burnham Hall 208

Panel 4 – Gender-Based Violence: Includes abusive acts that are physical, sexual, psychological, emotional, economic as well as limiting access to healthcare that disproportionally impacts the well-being of women and children

Moderator: Charlie Stoops, Dominican University, Dean of the Graduate School of Social Work
Room: Burnham Hall 209

3:30pm      Panel facilitators report back highlights from each panel discussion
4:00pm      Concluding remarks and Audience evaluation

Kathleen Borland, Chair, Social Services Committee, Chicago Sister Cities International
Day Two: Outcome Reports on Social Services Exchanges and Action Plans for Future Exchanges
Saturday, June 10, 2017
Student Center East, Illinois Room, 750 S. Halsted Stree
8:30am              Welcome remarks. Kathleen Borland, Chair, Social Services Committee, Chicago Sister Cities International
9:00am              Social services exchange delegation reports: participating international groups will highlight similarities and differences between Chicago and their city's own policies and practices

Moderator: James Scherrer, PhD, LCSW, Associate Professor, Dominican University

11:45am            Break for lunch
12:45pm           Concepts of Transformative Learning in the Context of International Social Service Exchanges

Presenter: Kathryn Engel MA, Director of Internships in Applied Psychology; Lecturer and Faculty Fellow, Honors College, University of Illinois at Chicago

1:30pm              Sustaining and Expanding Exchanges Panel

Moderator: Kathleen Borland, Chair, Social Services Committee, Chicago Sister Cities International
Presenters: Representatives from Birmingham, Casablanca, Chicago, Durban, Hamburg, Osaka, Paris and Shanghai

3:00pm               Panel moderators report back highlights from each panel discussion
3:30pm              Closing Remarks and Conference Evaluation

Kathleen Borland, Chair, Social Services Committee, Chicago Sister Cities International
Birmingham, UK
Haleema Afzal, Birmingham City Council, Senior Practitioner – Children in Care Services
Carey Banff, Birmingham, Social Services
Janti Champaneri, JC Social Care Consultants Ltd, Social Care Consultant
Rosie Farmer, Birmingham City Council, Senior Social Worker – Children's Safeguarding
Prof. Jon Glasby, University of Birmingham, Professor
Laura Greaves, Birmingham City Council, Senior Practitioner – Delivery – Hospital Post Discharge Team
Paulette Hamilton, Birmingham City Council, Councilor
Peter Hay, Birmingham City Council, Retired Former Strategic Director for People
Bridget Jones, Birmingham City Council, Councilor
Seanna Lassetter, Birmingham City Council, Social Worker – Specialist Practitioner Safeguarding Adults
Jamie McEwan, Birmingham City Council, Social Worker – Adults (No Recourse to Public Funds)
Matthew Palmer, Birmingham City Council, Senior Social Worker – Mental Health Team
Kelly Tighe, Birmingham City Council, Team Manager – Family Finding, Adoption and Fostering Services
Andy Walton, Birmingham City Council, Senior Social Worker – Children in Care
Casablanca, Morocco
Hassan Aaddak, Neighborhoods Association IDMAJ, Extracurricular Activities Manager
Moujahid Abaddi, Interministerial Delegate for Human Rights, Advisor
Azzeddine Belmahi, Mohammed VI Foundation for Rehabilitation and Insertion of Former Prisoners, Executive Director
Ilyass Bouzghaia, Rabita Mohammadia of Ulema, Researcher
M'hamed Ait El Haloui, Ministry of Youth and Sports, Division Head
Ikram Kanoubi, ROSA Association for the Development of Rural Women, Communications Director
Boubker Mazoz, Neighborhoods Association IDMAJ, President and Founder; and Sister Cities Casablanca Chicago Association, President
Touria El Safi, Association Relais Prison-Societe pour L'insertion Sociale, Non-Government Employee
Durban, South Africa
Dr. Musa Gumede, eThekwini Municipality, Deputy City Manager
Hamburg, Germany
Ina Achilles, Evangelische Stiftung Alsterdorf, Organization Developer
Ramona Elwes, Ministry for Health and Consumer Protection
Ralf Helling, Lenzsiedlung e.V. Association for Children, Youth and Community
Enrico Ickler, Ministry of Labour, Social, Family Affairs and Integration, Advisor to Senator Leonhard
Serap Iscan, Youth-Office/Youth-Department, Social Worker
Dr. Melanie Leonhard, Ministry of Labour, Social, Family Affairs and Integration, Senator
Karla Roeken, Social Services
Kolja Ronneberger, Ambulante Maßnahmen Altona e.V.
Prof. Dr. Sabine Stövesand, University of Applied Sciences Hamburg, Professor
Matthias Weissbach, Social Worker
Dr. Herbert Wiedermann, Ministry of Labor, Social and Family Affairs and Integration (BASF), Head of the State Youth Welfare Office/Supra-Regional Support Department
Stefanie Wolpert, Ministry of Labour, Social and Family Affairs and Integration (BASF), Deputy
Osaka, Japan
Takeshi Iiguni, Jikyo kan, Coordinator
Dr. Shinji Ishida, Shitennoji University, Assistant Professor
Yusuke Minematsu, Day Center Momo no ie
Koichi Oka, Rehab Association for People with Mental Disability
Akiyoshi Oki, In palace Minori-en, Assistant Manager
Hiroshi Onishi, Seikazoku no ie
Yu Tokumura, Moroguchi Daycare for Children, Director
Paris, France
Anne-Sophie Abgrall, Community Social Affairs, CASVP, Head
Nour Cressia, Office of Deputy Mayor for Social Affairs, Chief of Staff
Sylvie Payan, Social Services, Easter Paris, DASES, Director
Shanghai, China
Guojian Lou, Shanghai Civil Affairs Bureau, Policy and Regulation Division, Deputy Director
Yi Luo, Shanghai Children's Home, Section Chief
Guoping Ma, Shanghai Administration Bureau of NGOs, Foundation Administration Division, Deputy Director
Meiping Tang, Shanghai No.2 Elderly Home, Director
Jimin Tao, Shanghai Civil Affairs Bureau, Deputy Director, Social Welfare Division
Learn More About CSCI's Social Services Initiative
Proud Supporters of the Social Services Conference