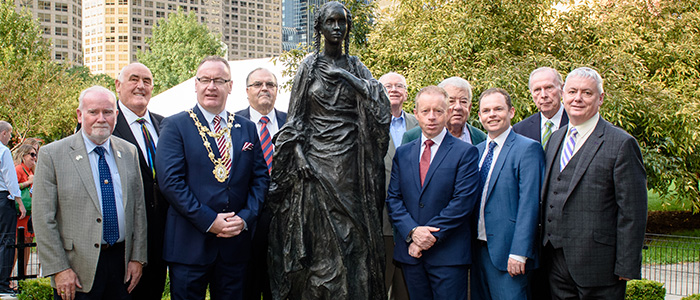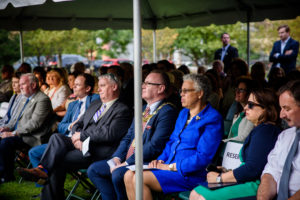 The Galway Committee of Chicago Sister Cities International was once again proud to host the Spirit of Galway delegation from August 13-17, 2017. The delegation included Ciarán Cannon TD, Minister of State for the Diaspora and International Development, Department of Foreign Affairs and Trade, Ireland, and Councillor Pearce Flannery, Mayor of Galway City.
Councillor Flannery  and Chicago Mayor Rahm Emanuel re-signed the sister city agreement between Chicago and Galway to reaffirm the strong the sister city relationship between Chicago and Galway in celebration of the 20th anniversary of the sister city relationship.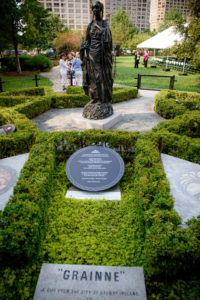 The Galway Committee also hosted an anniversary celebration with the re-dedication of the Gráinne Sculpture and Garden in Heritage Green Park across from Old Saint Pat's Church. Seven mosaic stones were installed around the sculpture depicting traditional Irish symbols.
Ireland's City of Galway gifted the Grainne Sculpture to Chicago in 1997. Artist Maurice Harron created the elegant bronze statue. During the sculpture's 2007 dedication, the artist stated: "The sculpture called "Gráinne" (Grace in Gaelic) is conceived as the Daughter of a 14th Century Irish Chieftain. Her costume depicts the customary dress of pre-1600 Irish women. They wore elaborate hair plaits and turbans, as are seen on Gráinne. She stands, making a gesture with her left hand to her throat. It is believed this gesture represented goodwill."
The seven mosaic stone carvings surrounding Gráinne were designed and created by Denis Goggin and Réamonn Flaherty at the Galway Salvage Gallery, using all natural materials including Connemara marble, Irish blue limestone and a rare Kerry red marble. The imagery depicted in the carvings represent the diverse fields of Irish culture, tradition and heritage such as: Claddagh Ring, Irish Harp, Galway Hooker, Triskel, Celtic Knot, Tree of Life and Celtic Sun.