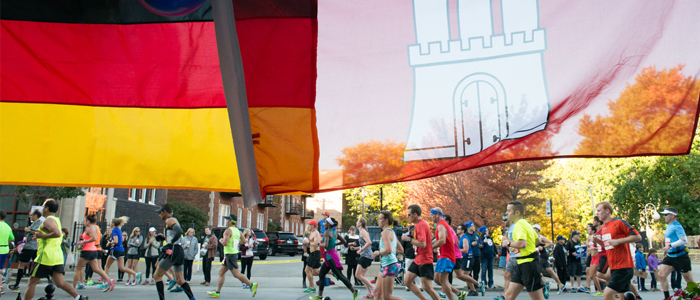 Maria Schreiber has been hosting runners from Hamburg in her home for the Bank of America Chicago Marathon since 2013. She shared her experiences with us…
If I could use one word to describe what being a host is like, I'd have to say "unifying."
Maybe it's luck, but all five times I've hosted a Hamburg runner, we have had a magical time together. They come as strangers and leave as family, as much in love with my city as I am. They bring that love back to Germany and share their stories; and the world gets a little bit smaller.
It started as a chance stop at the Bank of America Chicago Marathon Expo Hamburg booth to grab some foreign-like materials for my high school son. I was asked if I'd be interested in hosting. Well… hmmmm… maybe. At first I was terribly nervous. I have a husband who travels or works from home, I work part-time and have a small business, my three children are incredibly busy in and after school, I don't know these people, and we have a large and very nutty dog. How could I possibly manage hosting someone? Oh, and we live in the 'burbs. Who would want to travel all the way from Hamburg to stay in some western village outside of the exciting city? Our house is not Dynasty or Hotel, it's Brady Bunch and kicking a kid out of a room to bunk with a sibling. However, we have found all guests to be very independent, gracious, grateful, easy, and unassuming.
We find an aspect of family. I first hosted in 2013 when I couldn't get into the marathon so I figured it would be fun to make it fun for someone else. We hosted a fascinating Hamburg man who was originally from East Berlin before the wall came down. So here we were having dinner at my table with the pages of my son's AP Euro History class unfolding in words as the man told
us his amazing story. My dad stopped by and it turned out they were the same age and my dad had been stationed in Germany. With firm handshakes they spoke of those times during the Cold War…in my kitchen. That handshake turned into a hug. We taught our guest, and he earnestly learned, about American football. At one point he and my hubby were laying on each couch watching a game like a pair of brothers. This man became like family during that trip. He is family and that has been the case ever since.
There's always a feeling of sharing cultures. One year they had extra runners so I found two more suburban homes. Again, so many apologies for getting them "stuck" in the 'burbs. However, time and time again, they are all thrilled to LIVE like an American. One guest at our neighbor's house LOVED being able to catch their kids' soccer games and cross country meets. The guy was about 28, not a dad, but just loved it. He said he had watched so many American shows and felt he got to live them. He showed us how much these guests value and respect American life. The neighbor kids had so many questions about life in Germany.
Our latest runner brought her tween daughter. As I am a local substitute teacher, we quickly put together an afternoon presentation in the school library with our special guest. The
presentations ended with smiles and exchanges of Snapchat and Instagram addresses. Our kids were surprised to learn how we have much more homework and tickled to learn that her
amazing mastery of English was due to a binge-watching session of Prettty Little Liars. There are many children in our junior high who would otherwise have no access to people from other countries and they soaked it up with a lot of excitement.
All five years, shopping has been a priority. Aaahhh, yes…the list. In each case, our new German friends land with half-filled luggage and a long list. With the exchange rate and
Chicagoland variety, the shopping becomes a focus on par with running the marathon. Levis, Apple Watches, Apple anything, Victoria's Secret, Hollister, bagels, items from Michael's, all things Chicago, etc. Dinners, lunches, car rentals, train rides, concerts, the BLUES!, museums, you name it, the money is spent on it. In one case, our guest took a week after the race to drive west all the way to the coast with great stops along the way. It's a miracle they are actually squeezing in the little 26.2 mile run. The Monday after is the best. We all go to the city for the architectural boat tour, the Billy Goat "cheeseborgers", Navy Pier stained glass museum at times, medal engraving, and… more shopping and eating.
Reading this sounds like a host must play the role of camp counselor. Not at all. There's a matching form to be filled out each time that addresses how much you want to engage. For
many hosts, it's merely supplying a bed, access to a bathroom and a breakfast of Muesli. For me, a 3rd generation native Chicagoan, I just can't help but show off how immensely proud I am
of my city. The icing on the cake is running my city's race, meeting up with my new friends in the park and hearing all about how special our race (aka city tour) is and how much it means to them. From the grand Expo, to the breathtaking starting area just as the sun is coming up, through the city's neighborhoods and party in the park (not to mention the fun walk to the train), I get to relive the splendor that is Chicago through their eyes.
This is not just a group of runners visiting Chicago, but a relationship built with the city and its people. It's a friendship that is bigger and more connected. It's a unity and I am blessed and honored to be part of it.