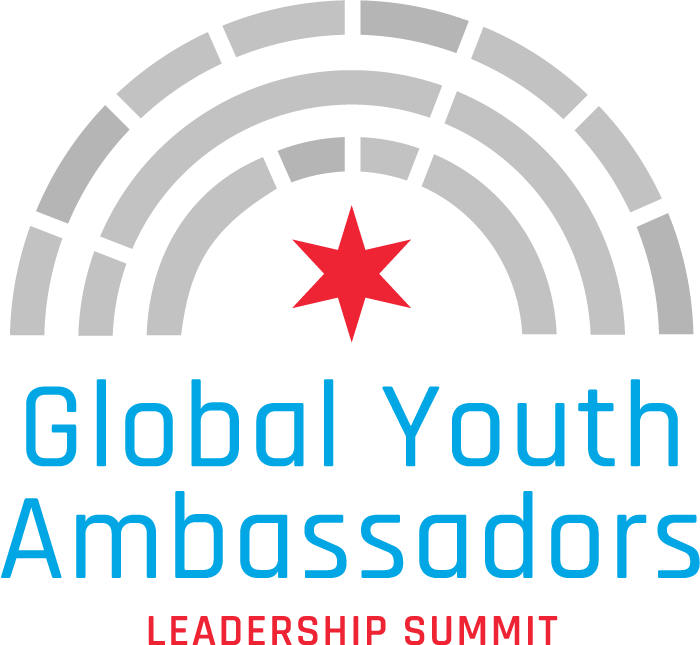 2017 Global Youth Ambassadors Leadership Summit
July 22–29, 2017
The 2017 Global Youth Ambassadors Leadership Summit will take place from July 22–29, 2017. Accepting Applications from February 1 – April 2, 2017 (APPLICATIONS CLOSED).
A joint program of Chicago Sister Cities International (CSCI) and the University of Illinois at Chicago (UIC), the Global Youth Ambassadors Leadership Summit is an educational forum in Chicago to help grow a new generation of global leaders. Participants from Chicago and its 28 international sister cities are empowered through workshops, discussions and presentations on advocacy, activism and leadership. The Summit encourages young women to become active leaders in their communities and develop solutions to the challenges girls face around the world.
The Summit consists of a one-week summer intensive program for teenage girls, ages 14–16. It is an opportunity for the girls to meet their peers from around the world; share issues that are of concern to them; participate in workshops; and meet with distinguished women in leadership positions. The participants are made aware of the experiences of peers who come from different backgrounds and are positioned to serve as advocates for each other in the future. As emerging leaders in their own communities, the summit equips the girls to become agents of positive change in the world.
Participants are selected via a competitive application process. The application is available to girls, ages 14-16, who live and attend school in the city of Chicago or one of its 28 sister cities and have an interest in international relations, leadership, advocacy, activism or gender studies.
Eligibility
The summit is open to girls, ages 14-16 (at the time of the summit)
Applicants from Chicago and its 28 international sister cities are invited to apply for the program; applicants must reside and attend school in Chicago or one of its 28 sister cities (listed earlier)
Applicants must have a good command of the English language (no interpretation services will be provided)
Applicants should have an interest in international relations, leadership, advocacy, activism or gender studies
Applicants must be willing to participate in an online exchange with fellow awardees before and after the summit
Application Process and Deadline
Complete applications must be received by Sunday, April 2, 2017
Applicant must complete Section 1 (general information) and Section 2 (short essays)
Applicant's parent/custodian must complete Section 3
A recommendation letter from a teacher or mentor describing what qualities make the applicant a good candidate for the 2017 Global Youth Ambassadors Leadership Summit must be submitted by the April 2 deadline
Interviews via video chat service may be scheduled during the month of April
Selection Process
The selection process will be determined by an independent review committee. Selection will be based on essay questions and recommendation letter. Applicants may be asked to participate in a video interview as part of the selection process.Notification e-mails will be sent to all applicants by April 28, 2017.
Travel Grant Details
Chicago Sister Cities International will fund the awardees' summit registration fee and travel expenses to attend the week-long summit, including dorm accommodations at the University of Illinois at Chicago, roundtrip airfare to Chicago, meals, transportation to and from the Chicago airport and during the summit, travel
insurance, and visa fees (if required).
International students will be accompanied by a non-parental chaperone (teacher, mentor, etc.). Chicago Sister Cities International will fund all expenses for chaperones.
Chicago participants will be paired with international participants and chaperones in apartment-style dorms at the University of Illinois at Chicago. Once international applicants are notified of their acceptance, they will be contacted to begin the travel process.
Protection of Minors
The University of Illinois at Chicago has adopted certain safeguards intended to protect minor children when they are on university premises participating in university programs and activities designed to include minors, or when they are in the care of university staff. The university and its employees shall comply with applicable federal and state laws to provide a safe environment in which children can learn, discover, and achieve their full potential.
For the policy and procedures concerning the university's Protection of Minors Policy, please visit hr.uic.edu/protection_of_minors.
Questions
E-mail: chicagoambassadors@gmail.com
Phone: +1 (312)201-4530
---
2016 Global Youth Ambassadors Leadership Summit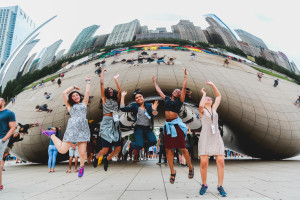 Last year, from July 23–30, 2016, Chicago Sister Cities International and the University of Illinois at Chicago presented the inaugural Global Youth Ambassadors Leadership Summit.
Nine Chicago students participated in the Summit: six from Benito Juarez Community Academy, one from Robert Lindblom Math & Science Academy, one from Jones College Prep, and one from Holy Trinity High School.
They were joined by eleven international students from Chicago's sister cities: one from Birmingham, United Kingdom; one from Bogotá, Colombia; one from Durban, South Africa; one from Lucerne, Switzerland; two from Mexico City, Mexico; one from Paris, France; and four from Toronto, Canada.
The participants had the opportunity to meet a number of women leaders in Chicago in a diverse cross-section of fields. The leaders shared their thoughts on leadership and discussed their path to success. Speakers included Jessica Droste Yagan of Impact Engine, Gabrielle Buckley and Margo W. O'Donnell of Vedder Price, Tracy Baim of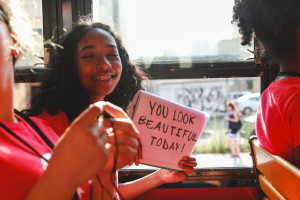 Windy City Media Group, Amy Guth of the Association of Women Journalists Chicago, Maril MacDonald of Gagen MacDonald Karyn Pettigrew of Fashion Fair, Cheryl Burton of ABC 7 Chicago, Anne Pramaggiore of ComEd, and Deputy Mayor of Chicago Andrea Zopp.
Panel discussions and workshops gave the girls the opportunity to learn about self-empowerment and activism. They participated in a zine-making workshop for personal storytelling with Monica Trinidad; advocacy discussions with Brian Stahulak and Maria Rivera of Ann & Robert H. Lurie Children's Hospital of Chicago and the Illinois Caucus for Adolescent Health; a tour of 1871 with a focus on girls in STEM; project work at the YouMedia Learning Space at the Harold Washington Library Center; a workshop with Global Girls, Inc.; a workshop with Assata's Daughters; a panel presentation on activism with Maria Pesqueira of Mujeres Latinas en Acción and Tanya Cabrera & Veronica Arreola of the University of Illinois at Chicago; and a panel discussion with Orla Mc Breen, Consul General of Ireland to the US Midwest, and Vuyiswa Tulelo, Consul General of South Africa in Chicago.
The girls also had the opportunity to explore Chicago and learn about its history and culture. They visited a number of neighborhoods, including the Near West Side, Streeterville, River North, the South Loop, Chinatown, the Loop, Hyde Park, Pilsen, and Greek Town. They also visited Jane Addams Hull-House Museum, Keith House, Chicago Women's Park and Garden, the DuSable Museum of African American History, the National Museum of Mexican Art, Navy Pier, Chicago Public Media, Lyric Opera of Chicago, WGN Radio, Tribune Tower, ABC 7, Millennium Park, and took a Chicago River Architecture boat tour.
On the final day of the Summit, the participants delivered final group presentations at Chicago City Hall Council Chambers, where Chicago Deputy Mayor Andrea Zopp spoke to them. The girls had a week long project where they were asked to spend the week exploring the question, "What does it mean to be a strong, confident girl in your society?" On this last day, they presented their projects through video, spoken word, testimonials, and slides in front of a public audience.
---
Photo Galleries

Meet the ParticipantsView photos


See the Week in PicturesView photos
Photos by: Patrick Pyszka and Ariana Limas.
---
Watch and Listen to Highlights from the Summit on Chicago Media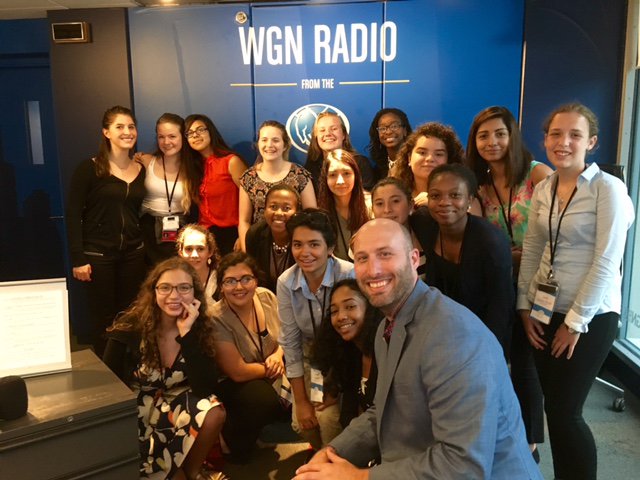 Chicago Sister Cities International (CSCI), a division of World Business Chicago, provides leadership to develop, manage and coordinate comprehensive programs and projects with Chicago's 28 sister cities in the areas of economic development, education, tourism, immigration and cultural enrichment. CSCI expands Chicago's global reach for the benefit of the City of Chicago, its residents and businesses.
Chicago's 28 Sister Cities
About the University of Illinois at Chicago (UIC)
Located in the heart of one of the world's great cities, the University of Illinois at Chicago is one of the most ethnically and culturally diverse universities in the country and a vital part of the educational, technological and cultural fabric of the region. As Chicago's only public research university with 29,000 students, 15 colleges, a hospital and a health sciences system, UIC provides the broadest access to the highest levels of intellectual excellence and opportunity. www.UIC.edu
UIC's Mission is:
To create knowledge that transforms our views of the world and, through sharing and application, transforms the world.
To provide a wide range of students with the educational opportunity only a leading research university can offer.
To address the challenges and opportunities facing not only Chicago but all Great Cities of the 21st century, as expressed by our Great Cities Commitment.
To foster scholarship and practices that reflect and respond to the increasing diversity of the U.S. in a rapidly globalizing world.
To train professionals in a wide range of public service disciplines, serving Illinois as the principal educator of health science professionals and as a major health care provider to underserved communities.
The Center for Research on Women and Gender at the University of Illinois at Chicago promotes collaborative, multidisciplinary research related to women and gender, with an emphasis on work, health and culture. In addition to research conducted within the university community, the Center collaborates with a range of other Chicago organizations to assist them in developing their evaluation and research programs. The Center's mission is to produce improved understanding of the lives of women and the role of gender in society. Center staff members view research activities as collaborations in which all partners work towards the same goal.
The Gender and Women's Studies Program (GWS) at University of Illinois at Chicago is an interdisciplinary unit dedicated to investigating the relationships between gender (including transgender), sexuality, feminism, and social justice.
GWS insists that gender and sexuality must be understood through their intersections with race, class, age, nation, citizenship, and ability. We conceptualize how these interconnected categories inform and structure social life, culture, politics, social movements and knowledge production.
GWS sees a sustained engagement with local, national and transnational communities as central to our research and teaching/work at UIC
The Jane Addams Hull-House Museum (JAHHM) serves as a dynamic memorial to social reformer Jane Addams, the first American woman to receive the Nobel Peace Prize, and her colleagues whose work changed the lives of their immigrant neighbors as well as national and international public policy. The museum preserves and develops the original Hull-House site for the interpretation and continuation of the historic settlement house vision, linking research, education, and social engagement. www.HullHouseMuseum.org