Culinary Scene

Chicago is a world-class culinary destination, featuring more than 7,300 restaurants serving cuisines to suit every taste. From its Michelin-starred restaurants to tucked-away eateries serving local delicacies, Chicago's rich food history and vibrant culinary scene offers every visitor an epicurean paradise.
New York, Chicago and San Francisco are the only three cities in the United States that have their dining pedigree probed and rated by the Michelin Guide. Chicago's dining scene is a 19 star constellation, made up of industry staples, trendy newcomers and one of the most critically acclaimed restaurants on the planet.
– See the full list of Michelin-starred Chicago restaurants, Michelin Guide.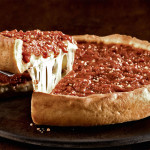 Chicago is famous for its food —not only as a gourmet dining epicenter, but also as the home of several local specialties, particularly deep-dish pizza, Chicago-style hotdogs and Italian beef sandwiches.
– Read more about these local specialties, Classic Chicago Food.
Chicago offers a virtual United Nations of dining choices with thousands of restaurants that highlight the city's diversity.  Many argue that Chicago's gastronomic appeal lies in its 77 neighborhoods. Ethnic enclaves such as Chinatown, Greektown, West Rogers Park (Indian and Jewish), Pilsen (Mexican), West Town (Polish, Ukrainian) and the Near West Side (Italian) are among those offering tastes from around the world at excellent prices. In Chicago, visitors can also find Afghan, Ethiopian, Cajun, Persian, Vietnamese, Guatemalan, Peruvian, Bohemian, Lithuanian and much more.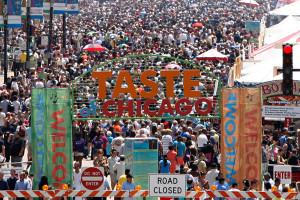 Along with such a diverse and impressive culinary scene are a host of events and programs that cater to those interested in food. In the warmer months, Chicago's Farmers' Markets bring vendors selling fresh fruits, vegetables, plants and flowers to over 30 neighborhoods throughout the City of Chicago. There are over 125 non-professional cooking schools in the city, in addition to renowned professional culinary schools such as Kendall College. Two large-scale food festivals celebrate Chicago's culinary scene, the Taste of Chicago in July and Chicago Gourmet in September.