As we have seen over recent months, the refugee crisis in Europe has dominated headlines and led news reports around the world. Last year alone, well over a million refugees fled to Europe seeking safe haven and a new start to their lives. These numbers are staggering—it is the largest human migration since the end of World War II.
Over half of all asylum seekers fleeing to Europe in 2015 have been received by Germany. Germany has stepped up to take a leadership role in dealing with this global crisis. The country's stance has allowed for hundreds of thousands in need to begin the path of transforming their interrupted lives, giving them a stable and safe harbor.
But the crisis has also strained Germany's social services infrastructure and made it increasingly difficult to provide the services these refugees so desperately need.
Over 20,000 refugees are living in Hamburg, with more arriving every day. Since 1994, Chicago and Hamburg have shared a strong sister city relationship. Both cities' strength comes from the wide diversity of their populations. The Hamburg Committee of Chicago Sister Cities International would like to help both the refugees in Hamburg and the citizens of Hamburg in providing the necessary resources to them.
Will you join us in this effort?
If you would like to make a donation to help with the refugee crisis,  please donate below or make a check payable to Chicago Sister Cities International, memo: Hamburg Committee/Refugee Aid and mail to:
Chicago Sister Cities International
Attn.: Hamburg Committee/Refugee Aid
177 N. State St., Suite 500
Chicago, IL 60601
Chicago Sister Cities International, a division of World Business Chicago (WBC), is a non-for-profit 501(c)(3)organization, Tax ID 36-4313685, and your donation may be tax-deductable. The funds will be used by WBC in any way consistent with WBC's organizational principles and mission. If you have any questions, please contact J. Christoph Lichtenfeld, ph. 773-263-4144 or charlichtenfeld@aol.com.
Chicago Sister Cities International is committed to promoting international exchanges and supporting the work of our sister cities. This sister city network unites citizen diplomats and volunteers who work tirelessly to promote peace and understanding through programs focused on humanitarian assistance, culture, education, economic and sustainable development.
We encourage you to join us in supporting our sister city Hamburg as it works to integrate the new wave of immigrants into its community.
Thank you in advance for your help.
---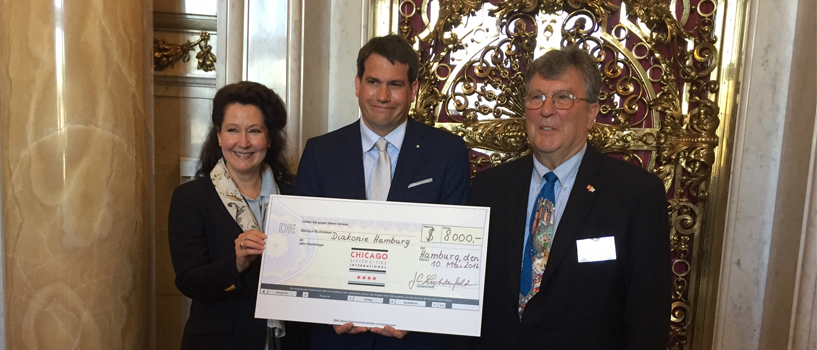 Hamburg Committee Co-Chair J. Christoph Lichtenfeld traveled to Hamburg on May 10 to present a check to Diakonisches Werk Hamburg for donations raised for the committee's fundraiser to help refugees in Hamburg by providing necessary resources to them. The fundraiser will continue throughout the year. Please consider a donation to this effort.