MISSION
 Chicago Sister Cities International is committed to promoting Chicago as a global city, developing international partnerships and networks, and sharing best practices through citizen-to-citizen connections.
HISTORY OF CSCI

Honorary Chairman – Mayor Rahm Emanuel
In 1960, Chicago Mayor Richard J. Daley signed the first Sister Cities agreement with Warsaw, Poland. In the 1970s and 1980s, Chicago signed with seven additional Sister Cities. In 1990, former Mayor Richard M. Daley enacted an executive order to establish a volunteer Board of Directors, launching over 20 years of increased community engagement and a rapid growth in Sister City relationships. Since then Chicago has established official relationships with a total of 28 cities in almost every region of the world. Today, Chicago Sister Cities International is the most active Sister Cities organization in the world. Operating under the guidelines established by Sister Cities International, the program has greatly impacted Chicago's international activity and its status as a leading global city.
On April 1, 2013, Chicago Sister Cities International merged with World Business Chicago. The newly merged organization binds Chicago's international programming with its global economic development arm by aligning the inherent commonalities that exist between CSCI and WBC.
Chicago Sister Cities International continues to operate under its own name and branding, but now as a division of World Business Chicago.
HISTORY OF SISTER CITIES INTERNATIONAL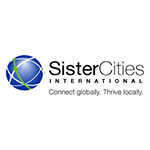 Honorary Chairman – President Barack Obama
Founded by President Dwight D. Eisenhower in 1956, Sister Cities International serves as the national membership organization for over 500 individual sister cities, counties, and states across the United States with relationships in 2,000 communities in 140 countries. This sister city network unites tens of thousands of citizen diplomats and volunteers who work tirelessly to promote peace and understanding through programs and projects focusing on arts and culture, youth and education, economic and sustainable development, and humanitarian assistance.


Sister Cities International »