The Paris Committee of CSCI has a very successful sister schools program. Schools in Chicago and Paris have been matched and collaborate on exchanges. These exchanges hope to foster international understanding, cooperation, and friendships by creating common learning projects.
If you are a school in Chicago and would like to be matched with a school in Paris, or a school in Paris who would like to matched with a school in Chicago, please fill out the attached school profile form.
Chicago Public Schools and L'Academie de Paris MOU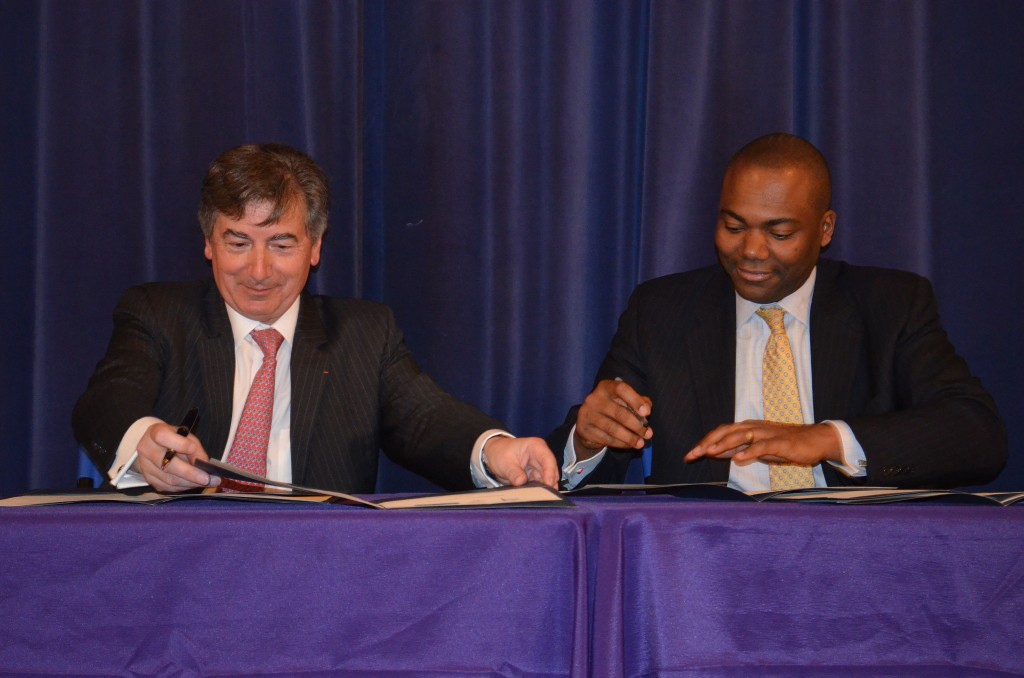 On Thursday June 7, 2012, Chicago and Paris, sister cities since 1996, signed a Memorandum of Understanding  between the Board of Education of the City of Chicago and l'Académie de Paris. The MOU inaugurates an educational exchange program between Paris and Chicago. The goal of this program is to establish a cooperative education program between the Chicago Public Schools and l'Académie de Paris to facilitate student and teacher exchanges, promote new pedagogical practices, and expand the international dimension in teaching and professional development.
Abraham Lincoln Elementary School hosted the ceremony during which the students of the school presented musical performances in English and French. Mr. Claude Michellet, Director de l'Académie de Paris and Mr. Jean Claude Brizard, Chief Executive Officer of the Chicago Public Schools, signed the agreement. Mr. Jean-Claude Duthion, the Education Attaché at the French Embassy in Washington D.C. and members of the French Consulate in Chicago also represented Paris. Attending from Chicago were Olivia Mulcahy, Interim Director of the Department of Language and Cultural Education at the Chicago Public Schools, Mr. Brett August, Chair of the Paris Committee of Chicago Sister Cities International, Mr. David Reithoffer, Vice Chair of the committee, and other committee members at large.
This ceremony marked a great success in the history of both cities in advancing the education profile. During the event, Mr. Brett August noted that "the Paris Committee of Chicago Sister Cities International has chosen the education profile as one of its main missions and the execution of this accord marks a true triumph for us." The Paris Education subcommittee of Chicago Sister Cities International is currently matching Chicago Public Schools with their counterparts in Paris to lead a variety of exchange programs connecting students from both cities.
Chicago and Paris Schools Sign Agreements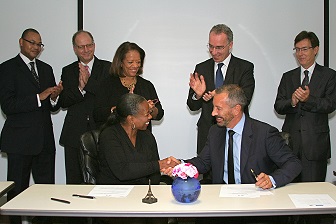 In October 2013, the Rector of  l'Academie de Paris, M. Francois Weil, visited Chicago with a delegation of French school principals and colleagues to meet with Mrs. Barbara Byrd-Bennett, Chief Executive Officer of Chicago Public Schools.
Mrs. Byrd-Bennett stressed the importance of cooperation between Chicago and Paris, both cities having similar visions of academic excellence and the mutual hope to improve education in an ever-changing global society. Mr. Weil spoke of the common priorities of our two cities, i.e. the importance of art and culture as teaching tools, the development of digital learning, and the need for diminishing inequality. He firmly believes that the dialog between educators and students from both sides of the Atlantic will be of great benefit to the future of society.
The following are the Chicago and Paris schools who signed official agreements on October 3, 2013:
Murray Language Academy and l'Ecole de la rue Vaucanson
Abraham Lincoln Elementary School and l'Ecole de la rue de la Plaine
Abraham Lincoln Elementary Middle School and le Collège Jules Romain
Alcott College Prep and le Collège George Sand
Whitney Young High School and la Cité scolaire Paul Bert
Marie Curie Metropolitain High School and le Lycée Rabelais
Chicago High School for the Arts and le Lycée Brassens
Mr. Weil also spoke at the University of Chicago and Northwestern University about the existing international exchanges at these two institutions and the hope to further develop this kind of communication at the university level as well.
The Paris delegation completed its visit to Chicago with a four-hour round table discussion at the French Consulate attended by members of the Chicago Public Schools, principals and administrators from the Career & Technical Education Department, French Jules Verne scholarship recipients, members of the French Consulate and of the Paris Committee of Chicago Sister Cities International. This most informative and exciting interchange outlined the work ahead and inspired everyone to continue this mission with enthusiasm.
School Profile Form