"There is no doubt the social work exchange is working well….It is a good example of mutual practical benefits between our cities and highlights the value of sharing good practice. This is particularly true at a time of reducing resources when we all need to be more effective and efficient." — Mike Murray, Birmingham International Department
Leadership:
Committee Chair: Kathleen Borland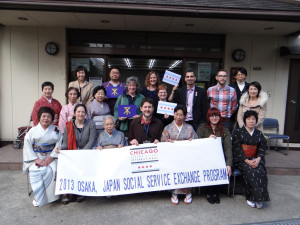 Since 1996, CSCI has built social services exchanges with various sister cities, including Birmingham, Casablanca, Durban, Hamburg, Osaka, Paris and Shanghai.
Social Services professionals worldwide are facing similar challenges due to common societal and economic upheavals. Issues such as child welfare, youth delinquency and an increasing elderly population have no national boundaries. The Chicago Sister Cities International (CSCI) Social Services Exchange Program believes that best practices and policies to address social problems should also have no boundaries and that learning from each other's experiences improves the quality of life worldwide.
Subsequently, CSCI has developed a Social Services Exchange Model in an effort to address these issues worldwide. Our Sister City Committees are given the tools to develop a Social Services Subcommittee that serves as a conduit for cultural discourse, mutual sharing of professional social service knowledge skills and cultural experiences to enhance social services in our global community by:
Developing sister-city, multidisciplinary social service exchanges where future leaders, practitioners, administrators, supervisors, academics, lawyers and judges come together
Cultivating leadership within the subcommittee to sustain and expand the exchanges
Sharing best practices and policy experiences to improve social services globally
Educating and promoting international collaboration to overcome cultural divisions
Developing on-going projects which promote human potential and functioning
---
2018 Osaka Social Services Exchange
The 2018 Osaka Social Services Exchange will take place from June 10-18, 2018 in Osaka, Japan. The deadline to apply is Wednesday, November 15, 2017.
Apply for the 2018 Osaka Social Services Exchange
---
2017 Social Services Conference: Diverse International Approaches to the Prevention of Violence and Abuse
In celebration of the 20th anniversary of Chicago's first social services exchange, Chicago Sister Cities International is hosting a two-day conference, June 9 & 10, 2017, at the University of Illinois at Chicago. The conference theme is "Diverse International Approaches to the Prevention of Violence and Abuse" and the areas of focus will be: child abuse and neglect; youth violence; elder abuse; and gender-based violence. Free and open to the public
Donate to the Social Services Conference
---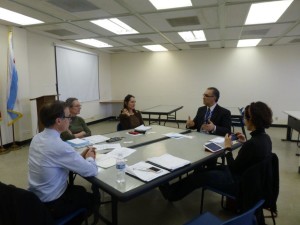 Click to download the Social Services Exchange Program brochure and an article from the publication Professional Development that details the work of CSCI Social Services Exchange Program
Innovative Exchange Creates Global Continuing Education
For more information on Social Services Exchanges or to find out how you can be involved, please email your questions to info@chicagosistercities.com.
---
2015 A Year for Expansions
From July 25–August 1, a new social service exchange was initiated between Chicago and Casablanca, Morocco. The exchange explored how social service providers in Chicago and Casablanca are engaging at-risk youth in their respective cities. Read more.
From August 26–September 6, a Chicago delegation traveled to Hamburg, Germany to participate in the 19th Tri-City Social Services Exchange between Chicago, Hamburg and Birmingham, U.K. The focus of the exchange was on disengaged youth and Hamburg as an inclusive city. Read more.
From October 24–31, the first Chicago social services delegations traveled to Shanghai, China. This second annual exchange follows a delegation from Shanghai visiting Chicago in 2014. Centered around elder care services, this exchange allows Chicago and Shanghai to share best in caring for aging populations. Read more.
From November 8–14, the Chicago-Osaka Social Services Exchange continued with a Chicago delegation traveling to Osaka, Japan under the theme "Working with Marginalized Populations." Read more.
The Paris Social Services Committee in Chicago created an ancillary exchange in Paris as part of their social services initiative that included a first student internship exchange.
ADA 25 Chicago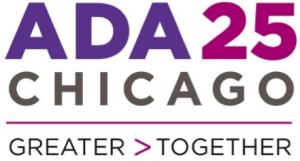 On August 3, 2015 Chicago Sister Cities International (CSCI) and Access Living hosted an event to celebrate the 25th anniversary of The Americans with Disabilities Act and its impact on people with disabilities around the world. CSCI and Access Living welcomed a delegation of disability leaders from Japan. The speaking program, moderated by Marca Bristo, President & CEO of Access Living, included welcome remarks by the Hon. Toshiyuki Iwado, Consul General of Japan, Joe Albritton, Deputy Commissioner of Mayor's Office for People with Disabilities and Yoko Noge Dean, Chair of CSCI Osaka Committee. The presenters Emi Uchimura from Muchu CIL (Osaka) and Kathleen Borland, Chair of the Social Services Committee of CSCI shared information on current disability-focused programs, rights and services. The speaking program was followed by the welcome reception.
2014 A Banner Year for Social Services Exchanges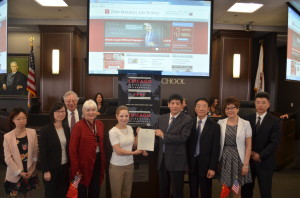 In 2014 the Social Services Exchange Program hosted four different exchanges in Chicago, which included five of Chicago's sister cities:
In March, the Paris-Chicago Social Services Exchange celebrated a fourth year by immersing a Parisian delegation into Chicago's social service networks. Their intercultural dialogue built partnerships and shared "best practices" about youth and family issues.
In June, the Tri-City Exchange including Hamburg, Birmingham and Chicago celebrated their 18th consecutive social work exchange with a comprehensive two-week program. With a theme of "Building Safe Communities for Children, Adults & Families" they also included several politicians from Hamburg and Birmingham to speak at a last day conference.
In July, the first Shanghai-Chicago Social Services Exchange was initiated in Chicago. This interdisciplinary exchange joined social service professionals and John Marshall Law School attorneys to focus on elder law, care and services.
In November, the Osaka-Chicago Social Services Exchange hosted the fifth consecutive exchange focusing on child welfare, mental health and older adults. They continue to mutually share experiences and ideas of how "to improve systems and services to vulnerable populations".
---
Proud Supporter of the Social Services Committee