About the STEAMuseum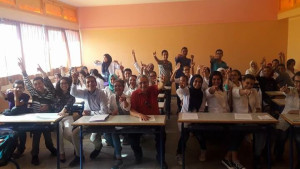 Chicago and Casablanca have shared a strong sister city relationship since 1982, making it one of the oldest of Chicago's sister city relationships. Through the past 35 years, the cities have worked together on numerous projects across a number of different disciplines to benefit both the people of Casablanca and the people of Chicago.
In 2016, this relationship was brought to a new level of engagement through the development of an innovative and unique education project in the area of digital diplomacy, harnessing 21st century tools to build bridges across the ocean. This project is the STEAMuseum, a project funded through a generous grant from the Aspen Institute's Stevens Initiative. The Stevens Initiative is supported by funding from the U.S. Department of State and the Bezos Family Foundation.
Under the Stevens Initiative, Chicago Sister Cities International has partnered with the Idmaj Neighborhoods Association in Morocco, the Digital Youth Network at DePaul University and the Center for Arabic Language and Culture (CALC) to create the STEAMuseum, a digital museum that will act as a collaborative exchange between high school students in Chicago and Casablanca.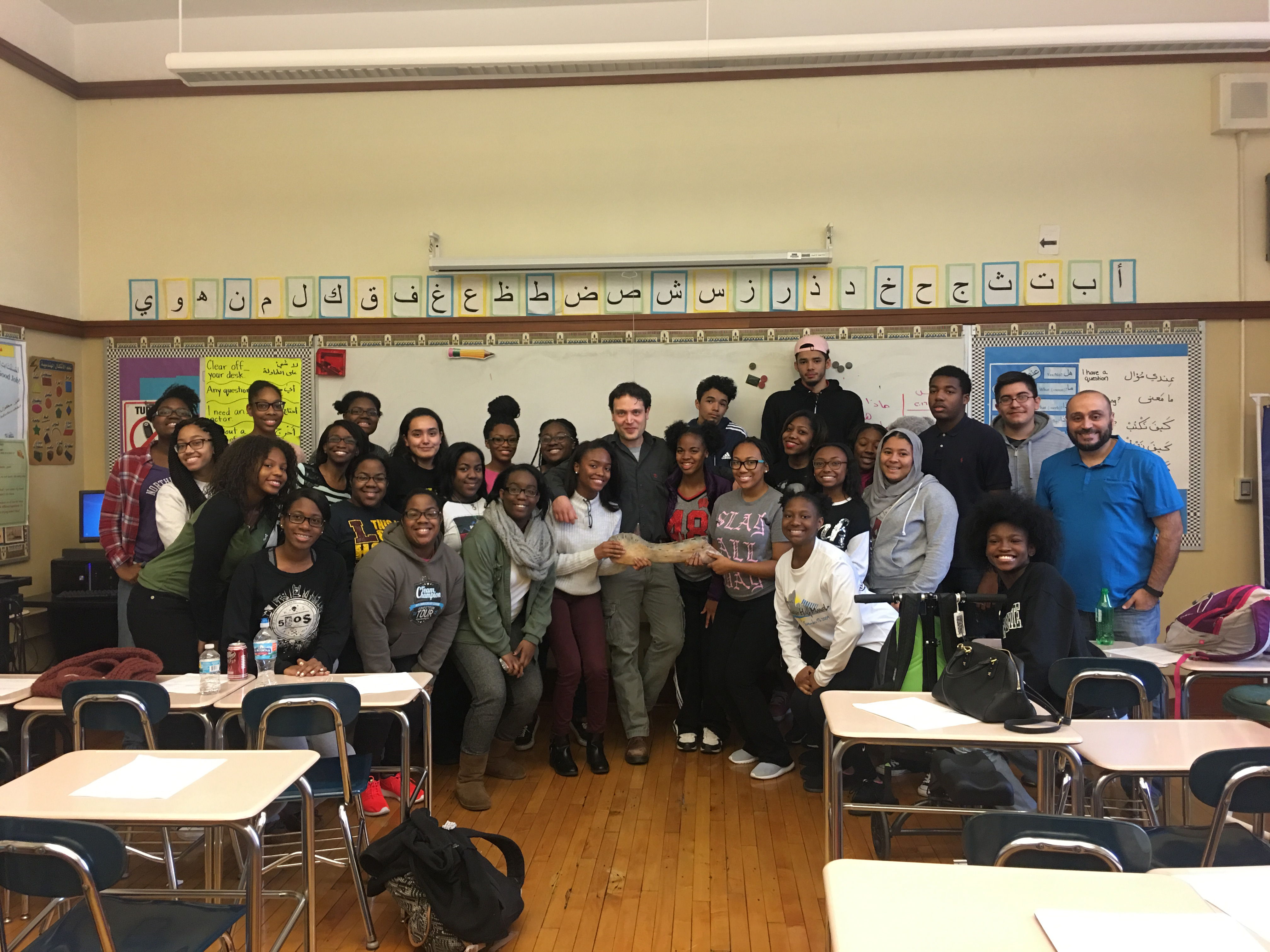 This pilot project brings students together virtually to create digital museum exhibits for an eventual virtual, global museum.
The STEAMuseum will be a new kind of cultural space created by and for a new generation of digital learners. It will feature digital artifacts and exhibits exploring Science, Technology, Engineering, and Art: disciplines that cross cultures and offer powerful tools for understanding the world and each other.
Chicago Sister Cities International is among the first wave of virtual exchange programs to be funded by the Stevens Initiative, a public-private partnership designed to increase people-to-people exchange between youth in the United States and the Middle East and North Africa as a lasting tribute to the legacy of Ambassador Chris Stevens.
Virtual exchanges use technology for sustained, people-to-people education programs. The Initiative aims to increase mutual understanding between youth in middle school through post-secondary and equip a generation of globally minded youth with the skills they need to succeed in an increasingly interdependent world.
---

"By connecting high school students in Chicago with their peers in Chicago's sister city of Casablanca, Morocco, the students will not only explore and gain STEAM education, they will learn what it means to be global citizens."
—Chicago Mayor Rahm Emanuel
---
STEAMuseum Blog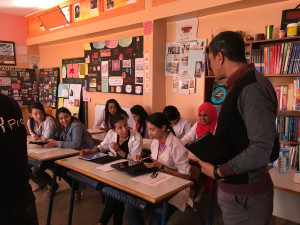 As we move into spring, the students have begun working on their exhibits in earnest. These are no ordinary exhibits, however; they're digital exhibits, which will exist only in the virtual world of the STEAMuseum. Of course that means it's no ordinary development process, either. The students are working in small teams online:  reviewing their digital artifacts, organizing them into a storyboard, and writing labels.
We're also piloting a new software platform created by our partners at Digital Youth Network. It's called CurateIt, and it's designed specifically for the task of curating simple digital exhibits. Because this is a pilot year, everyone is working on the same general topic—the discovery of Spinosaurus in Morocco's Sahara Desert—but they are exploring a range of different questions, just a scientist would. Stay tuned!
—Lisa Roberts, STEAMuseum Project Director and Co-Chair of the Casablanca Committee of Chicago Sister Cities International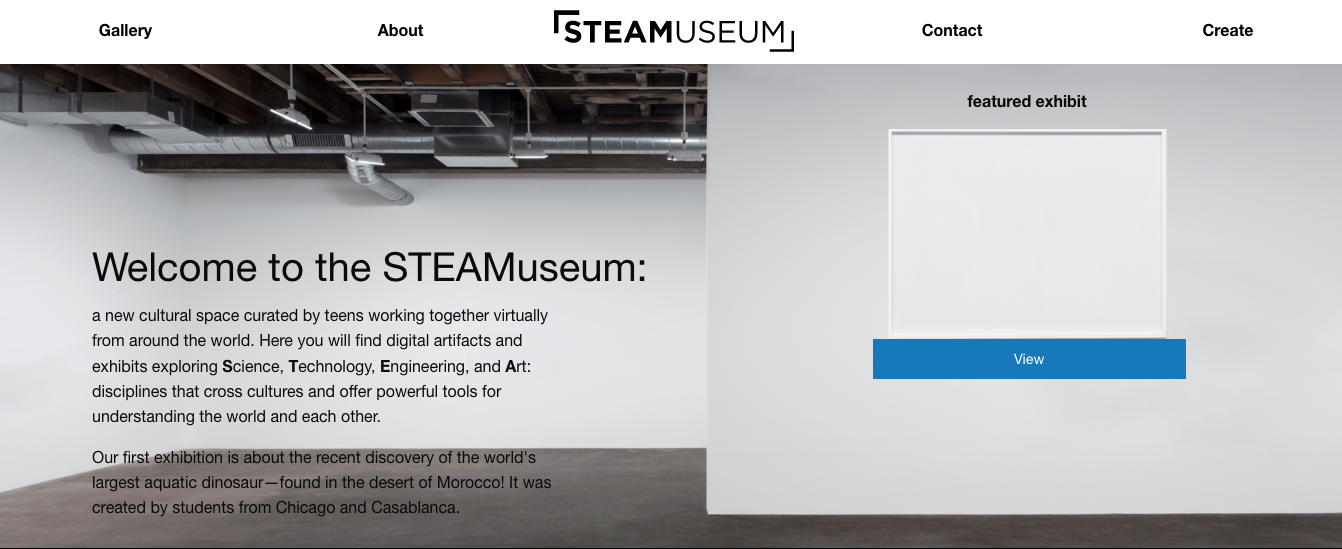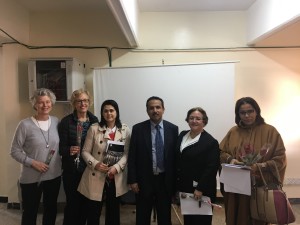 Earlier this month, Julie Stagliano, Senior Advisor to the STEAMuseum and Co-Chair of the Casablanca Committee, and I traveled to Casablanca on sister cities business. While there, we had an opportunity to visit each of the STEAMuseum classrooms where we were able meet the students face to face and observe the program in action. Seeing the mirror image of Chicago in these Casablanca classrooms was fascinating and moving, knowing how much it meant that the students were connecting with one another across so many divides.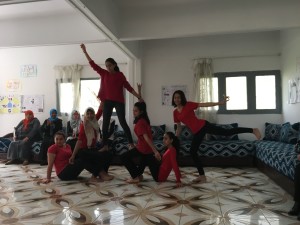 We were given a particularly warm welcome by the students at Al Masjid which we happened to visit on International Women's Day. We, along with the other female teachers, received a red rose and were treated to a performance and presentation (in English) about the value and contributions of women. It was a lovely and meaningful welcome which reinforced the importance of our work connecting people across cultures.
One of the ways we're trying to deepen those connections in our project is by forming small exhibit teams, composed of 2-3 students from Chicago and 2-3 students from Casablanca. Each team has had a chance to meet and have a short chat via video conference; and they now have their own team thread on the forum where they will communicate only with one another. Many have invited one another to their social media accounts, and we are hoping that these exchanges will lead to more personalized interactions and relationships.
—Lisa Roberts, STEAMuseum Project Director and Co-Chair of the Casablanca Committee of Chicago Sister Cities International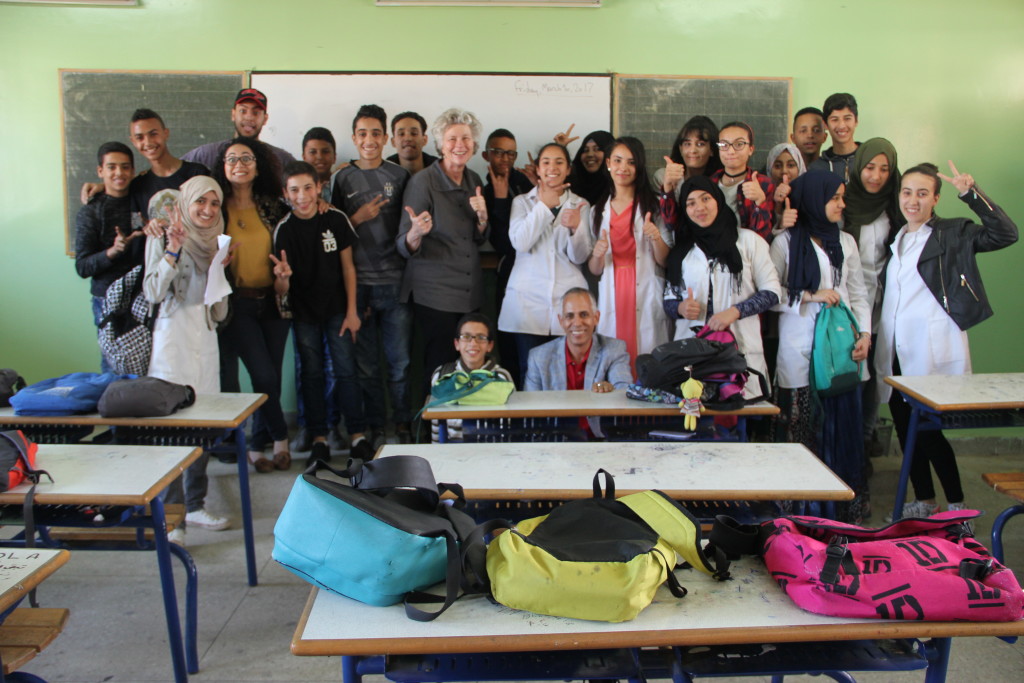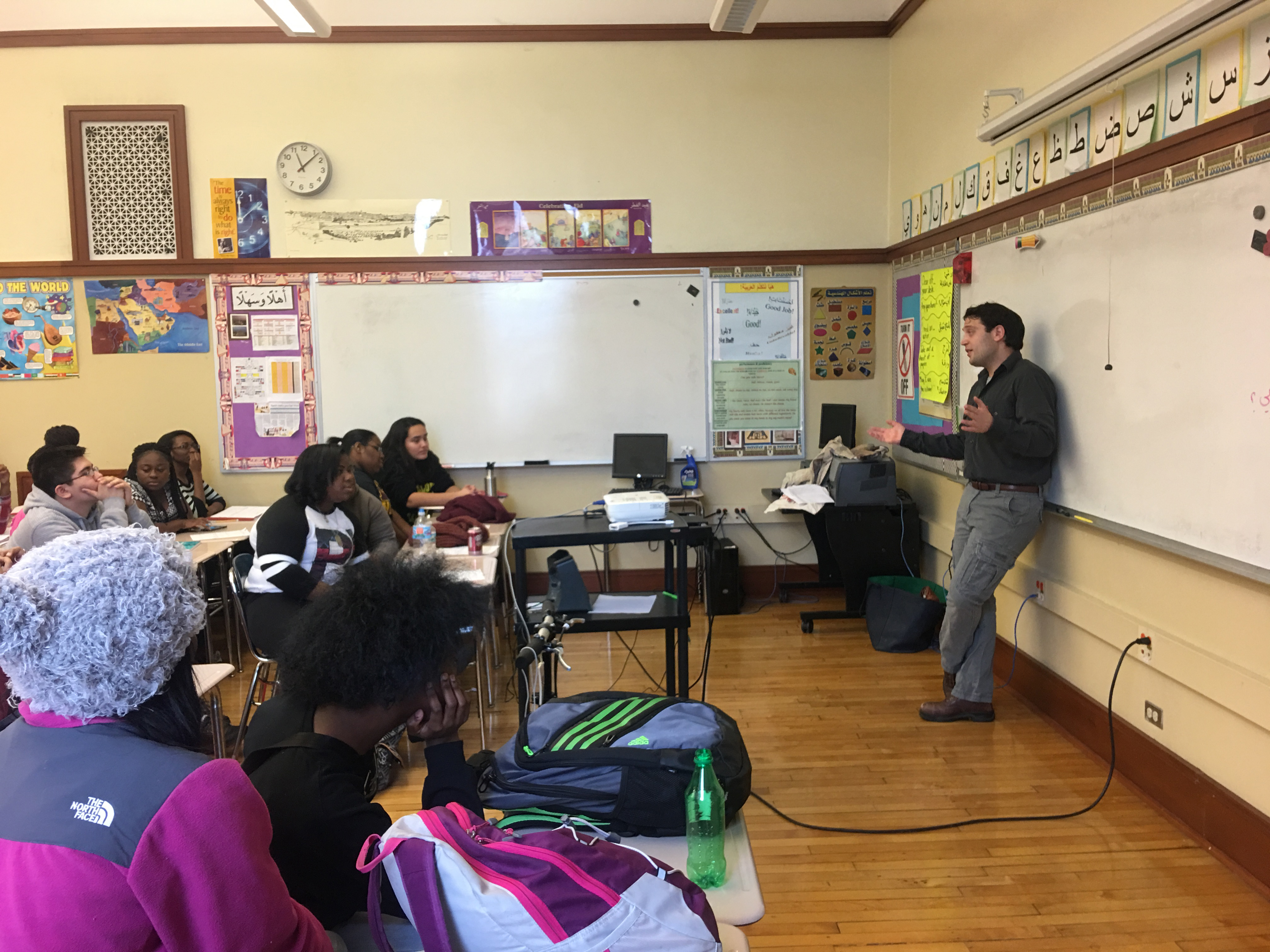 The STEAMuseum is moving full steam ahead! This project of the Stevens Initiative partners three Chicago high schools with three Casablanca high schools to create digital exhibits for a new virtual museum. The students spent most of the fall getting to know one another through activities designed to introduce themselves and their cities. They also had a chance to participate in two live video conferences where they were able to see and talk to (and laugh with!) one another directly.
The first semester ended with an introduction to their exhibit project by paleontologist Nizar Ibrahim who visited the Chicago classrooms in person and the Casablanca classrooms virtually. He was a huge hit—a great storyteller with a great story: the discovery of the largest aquatic dinosaur ever found in what is today the desert of the Moroccan Sahara.
Second semester is now underway, and the students are beginning their research on Spinosaurus and collecting digital "artifacts." Our partners at Digital Youth Network are working hard to get the platform ready for its first exhibition. And we are all waiting excitedly to see what the students come up with!
—Lisa Roberts, STEAMuseum Project Director and Co-Chair of the Casablanca Committee of Chicago Sister Cities International