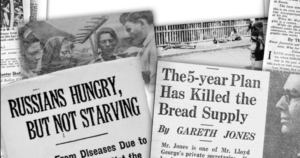 The 2016 presidential campaign introduced a new term into the cultural zeitgeist: "fake news." But fake news is anything but new.
In the years between World Wars One and Two, as old empires fell and new ideologies formed, the field of journalism came of age. Principles of objectivity, fairness, and unbiased reporting became a question of life or death. The power of mass information became as important as bullets in fighting ideological battles.
One Welsh Journalist, Gareth Jones, was killed in 1935 while speaking truth to power. Jones was the only Western journalist to break and cover the story of the Ukrainian Famine-Genocide of 1932-1933 perpetrated by the Soviet Union. It's still a rather unknown genocide today, even though untold millions of Ukrainians died.
Jones' critical reporting of the Nazis and the Soviets won him many enemies. Pulitzer Prize winner and The New York Times reporter Walter Duranty, a confidante of Stalin's, shunned Jones publicly. Though millions were dying, Durnaty's headlines read "Russians Hungry, But Not Starving." The New York Times only addressed its role in erasing genocide in 2003. Even though Duranty's reporting was fabricated, Pulitzer has refused to pull their award to him.
Jones' great nephew and archivist, Nigel Colley, will present a public lecture on how today's media environment reflects the dynamics between Jones and Duranty almost 80 years ago.
The talk is hosted by the DePaul Journalism Program's chapter of the Society of Professional Journalists and presented by the Kyiv Committee of Chicago Sister Cities International and the Ukrainian Genocide Famine Foundation – USA. Following the public lecture, six Ukrainian journalists visiting Chicago through the U.S. Congress' Open World Leadership Center will be fielding discussions on false information and media literacy today.
Three years after an invasion by Russia, Ukraine is the biggest example where fake news and war fuel one another today. Programs like Ukraine's Stopfake show how important fact checking is in the face of war.
The event will be in room LL102 of DePaul University's Daley Building, located at the lower level of 14 E. Jackson Blvd. Guests should enter the building through the 243 S. State Street entrance and take the elevators to B for lower level.
Refreshments will be served.